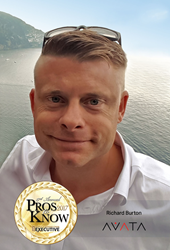 Wheat Ridge, Colorado (PRWEB) April 04, 2017
AVATA is proud to announce Richard Burton, VP of Europe and ANZ as recipient of Supply & Demand Chain Executive's 16th annual listing of the 2017 Pros to Know in the supply chain industry.
The Pros to Know Awards recognize an elite group of supply chain executives from both manufacturing and non-manufacturing enterprises, that are leading initiatives to help prepare their companies' supply chains for the significant challenges of today's business climate.
"Their accomplishments offer a roadmap for other leaders looking to leverage the supply chain for competitive advantage. Their efforts in developing the tools, processes and a knowledge base for supply chain transformation, as well as in promoting new approaches to supply chain enablement, earned these individuals a rightful place in this year's Pros to Know," says Ronnie Garrett, editor of Supply & Demand Chain Executive.
Supply & Demand Chain Executive received more than 300 entries for the 2017 Pros to Know Awards.
"We commend Richard's achievements and unique global expertise in Demand Planning and Trade Promotion Management and we are proud that he has been selected," Christina Bergman, Head of Global Marketing, AVATA. While he understands the domain thoroughly, he also understands how people work, and how to use technology in a practical and supportive way to bring about improvements. He strives for simplicity and consolidation rather than diversification and complexity.
Click here to check out the full list of the 2017 Pros to Know winners and learn more about AVATA.
About AVATA
We are a globally recognized consulting firm of business and supply chain experts that help companies solve critical business issues through people, process and technology. AVATA is an Oracle Gold Strategic Partner that offers a unique blend of real-world industry experience, best practices, and software expertise. Leveraging Oracle's JD Edwards, Supply Chain, and Cloud solutions, we successfully deliver rapid improvements impacting bottom-line performance. Combining this with our AVATA Business Cloud, we're powering the next generation of enterprise solutions delivered rapidly in a SaaS model. Visit us on the web at http://www.avata.com.
About Supply & Demand Chain Executive
Supply & Demand Chain Executive is the executive's user manual for successful supply and demand chain transformation, utilizing hard-hitting analysis, viewpoints and unbiased case studies to steer executives and supply management professionals through the complicated, yet critical, world of supply and demand chain enablement to gain competitive advantage. Visit us on the web at http://www.SDCExec.com.