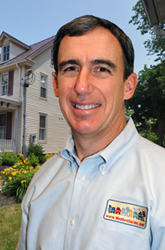 Scotch Plains, NJ (PRWEB) April 13, 2017
The Dawson Academy, one of the leading international organizations for post-graduate dental education, has recognized Dr. William Stiles as a 2017 Scholar of The Dawson Academy after completing the Academy's extensive Concepts of Complete Dentistry. This "Scholar" status is a testament to his dedication to continued learning in the field of dentistry providing his patients with the benefits of achieving long-term optimal oral health. He is also recognized as a 2017 NJ Top Dentist.
The Concept of Complete Dentistry that Dr. Stiles practices requires an understanding of every structural part of your chewing system, including your jaw joints, facial and temporal muscles, and teeth. In the long run, this could save you from years of pain, suffering and extensive costs for multiple and repeated dental work.
Analyzing the 10 structural and functional factors in the chewing system is the basis for every new patient examination so that Dr. Stiles can properly diagnose and treat not only obvious problems, but also those that haven't even shown signs yet!
Questions and Answers with Dr. Stiles.
1. Why is oral health important to your overall well-being?
A healthy mouth and healthy body go hand in hand. Good oral hygiene and oral health can improve your overall health, reducing the risk of serious disease and perhaps even preserving your memory in your golden years. The phrase "healthy mouth, healthy you" really is true - and backed by scientific evidence. Good dental hygiene: boosts your self-esteem, helps pregnant women carry babies to term, preserves your memory, may lower risk of heart disease, reduces risks of infection and inflammation in your body, and helps keep blood sugar stable if you have diabetes
2. What is the No. 1 thing all of your patients should be doing, but aren't? How can they improve?
Brushing and flossing are important parts of your daily routine. But to get the most benefit, you have to do it correctly. Once you've finished brushing and flossing, rinse your mouth vigorously to remove any loosened plaque and food particles. When it comes to preventive care, there is no "bad" time to dive in. We recommend brushing at least twice a day and flossing at least once. Consider adding extra sessions after high-carbohydrate meals or snacks, sweets and sugary beverages. In addition to brushing and flossing, twice-a-year dental cleanings are an important part of maintaining your oral and overall health.
3. Describe your dental philosophy.
Dr. Stiles is a highly trained and qualified dentist in South Jersey, focusing on advanced restorative and cosmetic dentistry procedures. The Spear Education in Scottsdale, the Dawson Academy in Tampa and the American Academy of Cosmetic Dentistry are where Dr. Stiles has completed over a 1000 hours of advanced post graduate training to master the latest techniques and procedures in restorative and cosmetic dentistry. Through an intricate process and thorough examination, he is able to accurately diagnose dental problems and develop a customized treatment plan that will address both function and esthetic concerns. It's more than cosmetic, it's complete dentistry. It's true; a smile can reduce stress, increase confidence and make you look much younger.
To learn more about his practice, please visit Dr. Stiles' full online profile here: http://njtopdocs.com/nj-dentists/williamstilesdmd/
About Us
NJ Top Dentists is a comprehensive information resource of Top Doctors, Dentists and Hospitals. We are profiling over 900 Healthcare Providers and have made it convenient for you to find them.
NJ Top Dentists allows patients to "meet" these providers online before making their appointment.
For more information, visit http://www.NJTopDentists.com
You can also follow us on Facebook – Twitter – YouTube