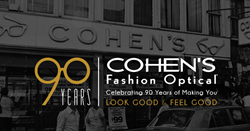 New York, NY (PRWEB) April 03, 2017
A fixture of Manhattan neighborhoods for 90 years, Cohen's Fashion Optical is celebrating its legacy with empowerment initiatives that give back to its customers.
With the long-standing credibility of a family name and the principles of its founder, Jack Cohen—whose pushcart frame business on the Lower East Side advanced into the first fashion eyewear retail location in New York—Cohen's is expressing gratitude to the city that has supported it's philosophy for nearly a century.
Building upon its roots of providing sight with style, New Yorkers can expect even more from Cohen's with an added level of attention this year:
Style Days at Cohen's Featuring GlamSquad
With the help of stylists from the city's coveted GlamSquad network of makeup artists, Cohen's is welcoming glam stations into select stores for two hours on Saturdays throughout the year. Customers will look and feel their best with makeup tips from experts who know how to make eyes shine. To complete the look, Cohen's offers an array of designer frames for any face shape, personal style, or hair and eye color. Visit http://www.cohensfashionoptical.com/style-days/ for dates and locations.
Empowering Customers Through Sight
Whether it's providing free eyeglasses to people who need them in communities near and far, giving free eye exams for kids, or donating to hospitals in local NY neighborhoods, Cohen's has been dedicated to making a difference worldwide. This year, customers will be able to touch people's lives just by purchasing eyewear and receiving an eye exam—Thanks to recent partnerships with iHeartRadio, RestoringVision and EcoMedia, and the Mount Sinai Hospital Adolescent Health Center's Ophthalmic Suite complete with a Cohen's Fashion Optical store, thousands of people in local communities and beyond will receive free glasses to help them live full, productive lives. Cohen's wants all customers to participate in vision for the greater good: Whether it's school children in their neighborhood, a veteran in the Bronx, or a craftsmen in Guatemala, clear vision can be life-changing—helping people rejoin the workforce or continue their education.
Celebrating New Yorkers
Cohen's want to share a little more of its story and how it creates connections in the communities it serves. By empowering independent business owners who in turn assist thousands of New Yorkers a day, Cohen's keeps commerce local. With a new ad campaign that celebrates everyday New Yorkers looking for value, style, and benefits of insurance plans, Cohen's will introduce an exclusive 90th Anniversary offer—a pair of frames complete with prescription lenses for only $90. It's Cohen's way of saying thank you.
Look for "90 Years" in the windows of your nearest Cohen's location, keep an eye out for panel discussions, follow 90 years @cohensfashionoptical on Instagram and Facebook, and don't forget to check out stylists and special promotions in-store.
With a rich heritage of personal attention, comprehensive care, and enterprising value as far back as 1927, Cohen's is honored to express its gratitude to customers.
"My Father envisioned an environment where he would help people see better and look better, too," said company President Bob Cohen. "We have never wavered, but we have invested even further in his vision and we are proud to evolve it in a way that matters today."
###
About Cohen's Fashion Optical
90 Years of Quality Eyecare & Eyewear
Ninety years ago, our founder, Jack Cohen, pioneered a new philosophy in the retail eyewear business. His vision was, everyone who needed prescription eyeglasses wanted to look better, see better, and feel better about themselves. In 1927, Cohen's became the only fashion eyewear retail location to be found in New York. Cohen's Fashion Optical quickly became a New York City retail landmark. Today, with over 130 stores in the US and Puerto Rico, Cohen's is one of the top ten optical retailers in the country and one of the longest operating optical franchise companies in the country.