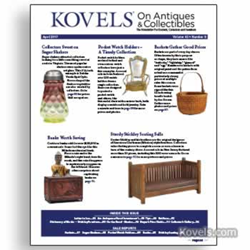 Cleveland, Ohio (PRWEB) April 05, 2017
Sugar shakers attracted collectors looking for a little something sweet at a Virginia auction and they are featured in a sale report in Kovels on Antiques & Collectibles April 2017 newsletter. A common sight on a Victorian-era table, shakers were made in many pressed glass patterns and colors. Find pictures and prices of "spot optic," "bubble lattice," "medallion sprig" and other pressed glass examples that sold from $100 to $380. Collectors were on a mission for Stickley furniture sold at a New Jersey auction that included a dozen rare chairs, loveseats and settles. Most seating went for over $2,000 and examples are pictured with prices in Kovels' April newsletter. Figural holders meant to display pocket watches are usually hard to find, but an Iowa sale offered more than 250 pocket watch holders that were part of a private collection. Kovels' April issue pictures an Art Nouveau-style tower and an English Bobbie holder, as well as others that do double duty like the top lot pen stand with ink bottles and watch holder that brought $400.
Captivating cast iron banks from a single collection were on the auction block in Pennsylvania. Mechanical, still and tin registering banks all were available. A painted iron Jonah and the Whale mechanical bank took top honors at over $115,000. Others sold from the hundreds to five figures. Examples are in Kovels' latest issue. And collectors gathered up baskets at two winter auctions, where basket prices ranged from $35 to $655. Baskets with different names, shapes and purposes, along with their descriptions and prices, can be found in Kovels' April newsletter.
Kim Kovel goes "on the road" for a design trip to Mexico that included the Diego Rivera and Frida Kahlo houses and Mexico's premier art fair, MACO. The popular illustrated Collector's Gallery answers readers' questions about a Spode plate, carnival glass dishes, an Effanbee doll and a Dansk candelabra. April's Dictionary of Marks lists marks used by the Stickley brothers' companies. And more than 70 antiques and collectibles are listed in the Buyer's Price Guide.
Kovels on Antiques and Collectibles is available as a print subscription, or as a digital version that is part of the Kovels.com Premium subscription.
Terry Kovel is America's foremost authority on antiques and collectibles. She is the well-known columnist and author of more than 100 books on antiques and collecting. The 50th annual Kovels' Antiques and Collectibles Price Guide will be published later this year. The 2017 edition is currently available at Kovelsonlinestore.com and local bookstores. Terry Kovel will discuss antiques and collectibles topics with accredited media. Photographs are available. Contact pr(at)kovels(dot)com.
About Kovels.com
Kovels.com, created by Terry Kovel and her daughter, Kim Kovel, provides collectors and researchers with up-to-date and accurate information on antiques and collectibles. The company was founded in 1953 by Terry Kovel and her late husband, Ralph. Since then, the Kovels have written some of America's most popular books and articles about antiques, including the best-selling Kovels' Antiques and Collectibles Price Guide 2017. The website, Kovels.com, online since 1998, offers more than a million free prices, and includes a free weekly email, "Kovels Komments." It gives readers a bird's-eye view of the market through the latest news, auction reports, a Marks Dictionary, readers' questions and answers and much more.
Contact Information:
Liz Lillis
216.752.2252
Pr(at)kovels(dot)com