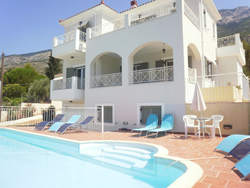 Kefalonia, Greece (PRWEB) April 11, 2017
Villa Rhakotis, a villa rental in Kefalonia, launched a newly designed website to bring online booking capabilities and a highly responsive design to guests living all around the world. The updated website is located at: http://www.rhakotisvilla.com/
The new website was designed to bring more information, villa photos, and added convenience to online travelers. Prospective guests can view rates, see open availability to book their upcoming vacations, and read reviews from past guests. Plus, those interested in learning more about travel to Greece can find insider's guides to the Greek islands.
Villa Rhakotis sleeps up to six people at a time. It is overlooking Lourdas Beach, which has become a very popular destination in Kefalonia. From outside the villa, on the patio or terrace, guests can enjoy the spectacular panoramic sea view as well as a stunning view of the Aenos Mount.
Inside the rental villa, there are three large bedrooms, three bathrooms, a private sun terrace and an outdoor pool. Each bedroom features its own private balcony. The entire villa is furnished with high quality, modern furniture that's been carefully selected for the villa. There's also a secluded BBQ area and patio for fun and relaxing outdoor activities.
The villa is located in Kefalonia, Greece, which is the largest island in the Ionian Sea. The island features expansive and exotic beaches, mountains, iconic marinas, and stunning architecture. It has become a go-to destination for family vacations and romantic getaways.
While in Kefalonia, travelers can explore beautiful caves including the Drogarati and Melissani Caves, post-Byzantine monasteries and historic castles. Nearby villages are home to some of the world's most delicious restaurants. Ferries are available to transport travelers to nearby Grecian islands, such as Patras, Ithaki, and Zakynthos.
About Villa Rhakotis
Villa Rhakotis is a luxury rental villa on the popular island of Kefalonia, Greece, near Lourdas Beach. The villa overlooks the beautiful Ionian Sea. For more information about the villa or to book an upcoming stay, go to: http://www.rhakotisvilla.com/