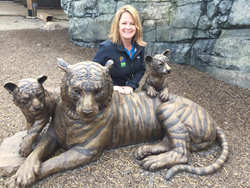 I truly think that the initial unveiling of these animals will take everyone's breath away
Provo, Utah (PRWEB) April 07, 2017
Coming in at around 500 lbs, this massive new tiger addition to the Zoo is one that can't be overlooked. This morning, Zoo Knoxville of Knoxville, Tennessee, is unveiling a beautiful bronze female tiger along with two baby tiger cubs, and a cute Langur monkey with her offspring. This project has been in the works over the past six months as Zoo Knoxville has collaborated with Big Statues LLC to bring personality, life, and a sense of beauty to these bronze sculptures.
The Zoo's mission is to maintain a healthy, genetically diverse population in the zoo while committing to being part of the solution to save species from extinction, both locally and globally. What better way to represent these rare creatures and also the idea of saving species from extinction, then to create life-size sculptures of these beautiful animals. The $10 million Tiger Forest project will include two outdoor tiger habitats and a building that offers indoor viewing areas for guests.
After searching for the right company to handle the special responsibility of recreating these animals, Zoo Knoxville went forward with the Utah based company, Big Statues. Well known for their uncanny ability to create detailed, realistic sculptures, Big Statues accepted the call to action and will be revealing their work this morning that they have created for the Zoo. "We are so ancy to unveil this project. The statues turned out beautiful!" stated Matt Glenn, President of Big Statues LLC. "I truly think that the initial unveiling of these animals will take everyone's breath away. They are so majestic and powerful and we're extremely glad that the Zoo will be able to house these sculptures for years on end for everyone to see."
To find out more on the unveiling at Zoo Knoxville, follow Big Statues and Zoo Knoxville on social media.