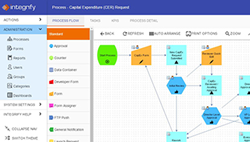 Business users need something that they can easily adapt to how they work.
Chicago, IL (PRWEB) April 04, 2017
Integrify has launched a major new release of its cloud-based workflow management platform. Integrify is used by some of the largest brands in the world to manage and automate their business processes across finance, human resources, operations, IT, compliance and marketing. Integrify's workflow automation software provides tools to design forms, build complex, rule-based information routing, deploy self-service portals and track process performance.
"We had two primary goals with this release," said Integrify CEO, David Willsey, "The first goal was to make improvements and add new features based on customer, partner and market feedback. The second goal was to rethink the entire interface to make it faster, easier and more mobile-friendly while keeping it familiar for our current customer base."
The twelve-year old company has thrived in a fragmented and competitive market by sticking to its core ideal of providing a powerful but straightforward enterprise workflow management platform that gives customers the control they want.
"Every business process is unique so flexibility is key," explains Willsey, "We've been doing this a long time and find that even within similar industries and departments, business processes vary widely. That means business users need something that they can easily adapt to how they work."
To that end, Integrify's latest release focuses on giving users even more flexibility to customize workflows and processes. For instance, the completely-redesigned form builder allows users to design and deploy complex, mobile-friendly forms with interactive elements like showing and hiding fields or sections based on user input. In addition, users can now save form parts for drag and drop re-use to speed development.
"Our form builder needed a bit of an overhaul," said CTO Rich Trusky, "Now we believe we have the best form builder in the industry."
To better address mobility, Trusky's team embraced Google's Material Design concept and rebuilt Integrify's interface. "The result was striking," according to Trusky, "The interface is cleaner, more responsive and much faster. It also allowed us to reconsider the user experience and leverage customer feedback to put tools within easier reach."
Integrify has also begun opening up their platform for more interoperability with other systems as well as leveraging Amazon's Lambda technology. "We've always had an open API for integration with other enterprise systems but now we'll be able to roll out integrations faster as well as open up the platform to outside developers," said Trusky. "Ultimately it means more power, flexibility and choices for our customers."
The improvements to the Integrify platform include:

Completely redesigned form builder
User-friendly interface for advanced form logic rules
Shareable KPI (Key Performance Indicator) dashboards
Fully-responsive mobile interface
Self-service portal customizations
SSO (single sign-on) support
"With our latest release we feel we've begun a new journey with our customers to develop the best workflow management platform on the market," says Willsey. "Our roadmap for the next several years is aggressive and we know our customers will be thrilled with what's coming next."
About Integrify
Integrify provides a workflow automation and management platform that allows organizations to build forms, rule-based automated workflow, self-service request portals, process auditing and performance reporting. Development is done through a low code environment that is built for rapid development and implementation of automated workflows deployed across the enterprise or within business units/departments. The Integrify platform is subscription-based and available in the cloud, private cloud or on-premise. http://www.integrify.com
Contact:
Mike Raia
1 312-262-4887
mike.raia(at)integrify.com