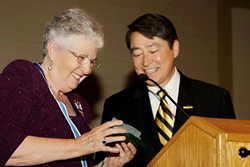 DAR has a long tradition of welcoming immigrants and helping them become citizens.
Glendora, California (PRWEB) April 04, 2017
Honoring the "can do" spirit of what immigrants bring to America, the California Daughters of the American Revolution (DAR) awarded the Americanism Medal to distinguished educator and veteran Joel Peterson during its recent State Conference. DAR members and guests recently came together to celebrate and recognize service to veterans, women in the military, and the accomplishments of naturalized citizens in the USA.
Peterson is a critically acclaimed author of the award winning book, "Dreams of My Mothers," a novel based on his experiences as a mixed-race Korean child born in extreme poverty to a single mother and American GI in 1963. His book highlights the challenges endured by mixed race immigrants who face cultural prejudices and language barriers. Adopted by an American family and raised in rural Minnesota, Peterson grew up to have a distinguished Navy career. He also is a leader in higher education and is an executive in global corporate mergers and acquisitions. Always aware and appreciative of his opportunities, the La Canada, CA resident has spent three decades serving his community in every city where he's resided through his example to those facing similar hurdles. He was nominated for the award by Regent Caroline Craven of the DAR Don Jose Verdugo Chapter of La Canada Flintridge, CA.
"DAR has a long tradition of welcoming immigrants and helping them become citizens. It's in this spirit of inclusiveness that we are proud to award the Americanism Medal to Joel Peterson, " said California State Regent Beverly Moncrieff. "Mr. Peterson has shown outstanding qualities of leadership, trustworthiness, service and patriotism and has displayed outstanding ability in community affairs. He demonstrates the finest example of an exemplary American." The event was part of the 109th California State Conference of the Daughters of the American Revolution in San Ramon, where hundreds of DAR members and guests convened.
The non-political, non-profit DAR California Society is headquartered in Glendora, CA. Efforts focus on saving the Monarch butterfly, fundraising to support local and DAR sponsored schools, scholarships, patriotic activities, and historic preservation in California and across the country.
The National Society Daughters of the American Revolution was founded in 1890 to promote historic preservation, education and patriotism. Its members are descended from the patriots who won American independence during the Revolutionary War. With more than 185,000 members in approximately 3,000 chapters worldwide, DAR is one of the world's largest and most active service organizations. DAR members are committed to volunteer service having served more than 12.5 million hours in communities throughout the world during the past three years. To learn more about the work of today's DAR, visit http://www.californiadar.org/.
Interviews with Joel Peterson and/or Beverly Moncrieff available upon request. Contact Stephanie Boyd at boydsteph1(at)gmail.com or 760-855-5088.