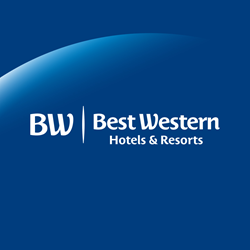 "Best Western is thrilled to activate our new BWGroups RFP Tool," said Dorothy Dowling, Senior Vice President and Chief Marketing Officer for Best Western Hotels & Resorts.
Phoenix, Arizona (PRWEB) April 03, 2017
Best Western Hotels & Resorts, in partnership with HotelPlanner℠, is announcing the launch of its BWGroups RFP Tool, a robust platform designed to advance the group booking process for Best Western hotels and its customers.
Continuing its stride as a first mover in the hospitality industry, Best Western partnered with HotelPlanner, a leader in global group hotel sales, to enhance the way meeting planners search and book group accommodations. As a result of this strategic partnership, Best Western launched the BWGroups RFP tool to meet the needs of today's travelers. The benefits of this new and advanced solution are two-fold: meeting planners have a user-friendly, simplified interface to better connect with Best Western and book group business; and Best Western hotels operate off of a system built with innovative technology to better manage and respond to group business leads.
"Best Western is thrilled to activate our new BWGroups RFP Tool," said Dorothy Dowling, Senior Vice President and Chief Marketing Officer for Best Western Hotels & Resorts. "Group business continues to be a segment that we perform exceptionally well in, and our new platform will enable our hotels to capitalize on these additional revenue opportunities and enhance our customers' experience."
The new platform comes as a welcomed addition to Best Western's award winning efforts in the group travel space. The American Group Travel Awards recently recognized Best Western as the Best Sports Team Travel Hotel Brand for providing group travelers with outstanding experiences. Business Travel News® – the leading source of business travel and meeting information and intelligence in North America – ranked Best Western and Best Western Plus® in the top three mid-price hotel and upper-mid-price hotel brands for three years in a row.
The BWGroups RFP tool is built with state-of-the-art technology, providing enhanced capabilities and intuitive design to make sourcing groups, following up with clients and booking business faster and easier. With features such as online RFP management, email notifications, optional auto-response, and reporting and analytics features, this tool simplifies processes and helps hotel gain more group business.
"Best Western has installed the most powerful group sourcing platform available in the market. HotelPlanner's leading edge technology combined with a custom designed easy to use interface will allow Best Western to create advantages in the global group market to book significantly more business," said Tim Hentschel, CEO of HotelPlanner.
The BWGroups RFP Tool has been rolled out to all Best Western branded hotels in North America. And with the platform's early success, the company has announced it will be launching the BWGroups RFP Tool on a global scale to its 4,200 hotels in more than 100 countries and territories worldwide.
###
About Best Western® Hotels & Resorts:
Best Western Hotels & Resorts headquartered in Phoenix, Arizona, is a privately held hotel brand with a global network of 4,200* hotels in more than 100* countries and territories worldwide. Best Western offers seven hotel brands to suit the needs of developers and guests in every market: Best Western®, Best Western Plus®, Best Western Premier®, Executive Residency by Best Western®, Vīb®, BW Premier Collection® and GLō®. Now celebrating more than 70 years of hospitality, Best Western provides its hoteliers with global operational, sales and marketing support, and award-winning online and mobile booking capabilities. Best Western continues to set industry records regarding awards and accolades, including nearly sixty percent of the brand's North American hotels earning a TripAdvisor® Certificate of Excellence award in 2016, Business Travel News® ranking Best Western Plus and Best Western in the top three upper-mid-price and mid-price hotel brands for three years in a row, and Best Western receiving five consecutive Dynatrace® Best of the Web gold awards for best hotel website. Best Western has also won eight AAA®/CAA® Lodging Partner of the Year awards, recognizing the brand's commitment to providing exceptional service and great value to AAA's 56 million members in the U.S. and Canada. Nearly 30 million travelers are members of the brand's award-winning loyalty program Best Western Rewards®, one of the few programs in which members earn points that never expire and can be redeemed at any Best Western hotel worldwide. Best Western's partnerships with AAA/CAA and Harley-Davidson® provide travelers with exciting ways to interact with the brand. Through its partnership with Google® Street View, Best Western is the first major company of its size and scale to launch a virtual reality experience for customers, setting a new industry standard and reinventing how guests view hotels.

Numbers are approximate, may fluctuate, and include hotels currently in the development pipeline.