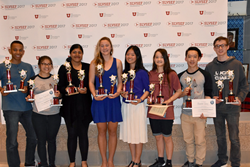 Sandy, UT (PRWEB) April 04, 2017
Two students from The Waterford School will display their independent research at the Intel International Science and Engineering Fair (Intel ISEF) on May 14-19 in Los Angeles, California. Waterford junior Tanisha Martheswaran and freshman Emma Sun were awarded two of eight Intel ISEF Grand Champion prizes at the Salt Lake Valley Science and Engineering Fair (SLVSEF) on March 24.
Martheswaran and Sun competed in the SLVSEF Senior Division, which included entries from high school students in the greater Salt Lake area. The SLVSEF fair is one of seven Intel ISEF-affiliated regional science fairs in Utah. The SLVSEF is presented by The Center for Science and Mathematics Education located at the University of Utah in Salt Lake City, Utah.
Sun, who partnered with her brother, Alex Sun of Hillcrest High School, won first place in the SLVSEF Behavioral and Social Sciences category for their project titled, "Understanding 'Compassion Fade'."
Matheswaran won first place in the SLVSEF Energy: Chemical & Physical category for her project titled, "Waste Embraced 2.0: A Novel Study of the Effects of Optimized Struvite Precipitation on Biogas Production and Resource Recovery from Municipal Landfill Leachate and Wastewater Centrate."
Additionally, Matheswaran has been invited to present her research at this year's WasteExpo 2017 from May 8-11 in New Orleans, Louisiana. WasteExpo is an industry gathering of operators and researchers in the waste management field.
Intel ISEF is the world's largest pre-college science fair. Approximately 1,800 high school students from over 75 countries compete for $4 million in prizes each year. According to the Society for Science, Intel ISEF unites today's top young scientific minds, showcasing their talents on an international stage, where doctoral level scientists review and judge their work. To learn more about Intel ISEF visit https://student.societyforscience.org/intel-isef
The Waterford School is a top private school providing a liberal arts, college preparatory education, with experienced faculty, rich curriculum, nurturing community and a beautiful 40 acre campus. Waterford enrolls preschool and kindergarten, elementary, middle school and high school students from Salt Lake City, Holladay, Sandy, Draper, Park City, Utah County and throughout the Wasatch front.