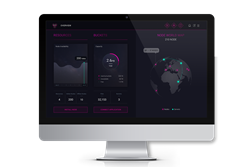 We chose NooBaa over the others because they could deploy in our existing infrastructure, were much easier to manage, and the licensing model means there's very little financial risk... It was an easy decision to go with NooBaa.
San Francisco, CA (PRWEB) April 04, 2017
NooBaa today announced worldwide availability of the NooBaa Enterprise Edition product offering. NooBaa is a software-based object storage solution that greatly improves infrastructure and business flexibility by enabling dynamic hybrid and multi-cloud data management. The NooBaa solution allows enterprises to consolidate unstructured data management across multiple locations and cloud environments in a simple and elastic manner by pooling datacenter capacity resources with public cloud capacity in a single namespace. The Enterprise Edition provides full scale-out and high availability, public cloud integration, and a pay-as-you-go subscription license. Along with the new release, NooBaa Customer support is now available across Americas and EMEA regions.
One customer who recently deployed NooBaa's Enterprise Edition is Clouditalia, a Cloud and Telecommunications Services Provider that provides Cloud and Telecommunications broadband services from datacenters in Milan, Arezzo, and Rome. Seeking to offer an object storage solution that would form the basis for storage-as-a-service and cloud archival needs, Clouditalia is deploying NooBaa across their datacenter network. According to Marco Iannucci, CEO of Clouditalia, "It's critical for a cloud business to have a strong object storage offering. We chose NooBaa over the others because they could deploy in our existing infrastructure, were much easier to manage, and the licensing model means there's very little financial risk for us as our market for storage grows. It was an easy decision to go with NooBaa."
NooBaa is an easier solution for supporting the uncontrolled growth of unstructured-data workloads such as backup, archive, and new digital workloads, where customers are sensitive to costs and need to preserve flexibility for cloud adoption initiatives. Traditional scale-out storage solutions have high startup costs, are complex to deploy, have rigid networking limitations, and have steep learning curves. For applications such as backup, the ability to start small and leverage efficiency features like dedupe are critical capabilities not available in all SDS architectures. NooBaa's novel architecture dramatically improves resource flexibility, reduces start-up costs, and eliminates lock-in for customers.
NooBaa can start small and scale seamlessly over time as capacity needs grow. The system can be deployed across any capacity resources available in the organization, minimizing unnecessary capex or infrastructure configuration. NooBaa is capable of clustering diverse storage resources include bare-metal Windows and Linux servers, VMs, object storage, and public cloud storage providers including Amazon and Microsoft.  By capturing host, storage, and networking properties of the various systems in real-time, the system dynamically adjusts data placement policies, and accommodates the introduction of new capacity and new technologies with no application disruption.
According to Yuval Dimnik, founder and CEO, "The future of infrastructure - including cloud adoption - is harder to predict today than at any other time. For customers who need to retain large data-sets, the lock-in and constraints of traditional storage are huge obstacles to flexibility. We knew if we could accommodate any customer infrastructure, consume resources anywhere, apply aggressive dedupe and compression, and use automation for things like tiering, we could help IT organizations reduce risk and deliver more agile services."
The announcement of NooBaa's general availability as a low-TCO, multi-cloud data management solution builds upon the early-adoption momentum of their Community Edition product, which was introduced at VmWorld in 2016, and gave customers an easy way to evaluate the product. According to Eran Tamir, NooBaa's VP of Product, "The days of massive 6-month vendor-led evaluation projects are over. We're making it amazingly easy for customers to run POCs and build familiarity with the product. Even with the Enterprise edition, customers typically use existing physical infrastructure and cloud accounts to get started in less than 15 minutes."
About NooBaa
NooBaa is the industry's most flexible scale-out data management and storage platform, enabling cloud providers and enterprises to more easily manage large-scale data archival and retention of unstructured data. Co-founded in 2013 by leading storage and security experts Yuval Dimnik and Guy Margalit, NooBaa has offices in Israel and San Francisco. Privately-held, NooBaa has received venture capital funding from JVP, OurCrowd and prominent industry leaders. NooBaa is a partner of Commvault, Veritas, Rubrik, Splunk, Microsoft, Amazon, Milestone, Cloudberry Lab, Qstar, and other solution vendors.