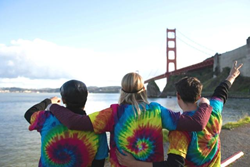 San Francisco, CA (PRWEB) April 04, 2017
It's the Summer of Love, baby! Getting into the 50th anniversary spirit, Extranomical Tours today announced that it was inviting San Francisco visitors to "tune on and turn in" to a moment in time that launched a cultural revolution.
"We'd like everyone to 'get on board'—literally—for our new San Francisco Summer of Love tours. Wouldn't it be remarkable to sit next to someone who was there in 1967?" said Gary Lillian, CEO of Extranomical. "Guests will enjoy a delightful three-hour tour of San Francisco, and they'll be part of the experience."
"Our Then and Now promotion will be a spectacular kickoff to the many Summer of Love activities in San Francisco this year," said Linda Bauer, Director of Marketing at Extranomical. "It's really simple. The first 1,000 guests to post a photo of themselves in 1967-era attire on Extranomical's Instagram, Facebook or Google+ with #ExtraSoLove will enjoy this amazing new tour complimentary."
Extranomical Tours will begin operating its two Summer of Love edition tours on April 19th; reservations can be made starting today. The first, San Francisco Treasures, picks up guests three times a day and shows off 15 city landmarks including: Embarcadero, Fisherman's Wharf, Coit Tower, Palace of Fine Arts, Chinatown and more. The tour includes a special Golden Gate Bridge view and a stop to probe the origins of the Summer of Love among the Beats and poets of North Beach.
The second itinerary, called San Francisco Parks & Coast, departs twice a day to explore the historic Presidio, the city's daunting coastline, the diversity of the Mission and Castro districts and culturally rich Golden Gate Park, where many Summer of Love events happened. Guests will see the Jimmy Hendrix Red House, Grateful Dead's legendary pad and learn all about the Beats, rock stars and hippies who walked the streets of Haight-Ashbury 50 years ago.
Applicants for the complimentary tour should post their pictures on Extranomical's Instagram, Facebook or Google+ with #ExtraSOLove. "All are welcome," added Mr. Lillian, "because this city can't have too many dreamers."
The fiftieth anniversary of the Summer of Love celebration, inspired by the California Historical Society and San Francisco Travel, looks back at the events that led tens of thousands of young people to converge in San Francisco's Haight-Ashbury district during the summer of 1967. The growing number of exhibitions and events from May to September will explore the music, art, events and happenings that made San Francisco the center of a social revolution that exploded across the country, then the world.
About Extranomical Tours
Headquartered in San Francisco, CA, Extranomical Tours is a leading sightseeing and tour company to destinations across Northern California. Since 2002, the company has offered a selection of highly-regarded tours, including: the city of San Francisco, Alcatraz Island, Sausalito, Muir Woods, the Wine Country, Yosemite National Park and Monterey as well as a variety of combo packages that feature multiple destinations. More information is available at http://www.extranomical.com
Social Media:
Facebook - https://www.facebook.com/extranomical
Google+ - https://plus.google.com/+Extranomical
Instagram - https://www.instagram.com/extranomicaltours