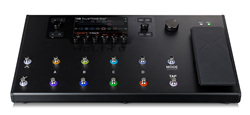 "They kept the engine and brain of the original Helix the same but they removed some of the overkill ins and outs, removed the scribble strips, and cut down the number of expression pedal
Oakland, New Jersey (PRWEB) April 04, 2017
Serious electric guitar players want an all-in-one effects processor without skimping on tone. The April 3rd, 2017 release of the new Line 6 Helix LT Modeling Electric Guitar Processor does just that. Because of its lower price than the original Helix Platform products, the new LT model comes at a time when working musicians need more of a break on price than ever.
The Latest in Signal Modeling
The new Line 6 Helix LT Modeling Electric Guitar Processor gives electric guitar players impulse responses and the latest and greatest in signal modeling, without needing 4 FX loops. This new Helix LT is for guitarists who want all the tone that the original Helix & Helix Rack models provide, without the extra in and outs.
The LT, a More Affordable Version of the Helix
With the success of the popular Helix and Helix Rack, this new Helix LT model will become known as the more affordable version of the Helix. "By introducing the Helix LT, Line 6 did the smartest thing possible: They kept the engine and brain of the original Helix the same, but they removed some of the overkill ins and outs, removed the scribble strips, and cut down the number of expression pedals you can hook up. They took all the extra stuff out, but left everything you might need to incorporate this Ferrari of electric guitar effect processors," said Mike Hovey (Guitar Gear Expert, AMS).
Helix Is the Gold Standard in Guitar Amp Modeling
To understand why the Helix LT launch is such a big deal, it is worth remembering that the original Line 6 Helix was a hit because it took Line 6 modeling (*modeling is digitally emulating an amplifier, in this case a guitar amplifier). The Helix pushed modeling to the next level by including impulse responses and going as far as modeling even the smallest components to make an authentic model.
Tone Junkie Approval
Guitar players are some of the pickiest tone junkies in the world. With the amount of guitarists now using the Helix, they have spoken and say it is the perfect FX modeler for them. A more affordable Helix LT is going to make the Helix platform more obtainable for more guitarists across the USA.
Manufacturer Product Specs: Line 6 Helix LT Modeling Electric Guitar Processor

Offers the same award-winning HX Modeling as Helix Floor, Helix Rack and Helix Native.
Uncompromised Helix sound quality with 123 dB of dynamic range
Greater DSP power than any other multi-effects processor in its class
Robust I/O complement for easy integration and advanced flexibility
Preset compatibility with existing Helix products
User-friendly Mac/PC editor enables remote editing and IR management
Authentic HX Modeling
Real Power
Powered by the HX Modeling engine, Helix LT offers greater DSP power than any other multi-effects processor in its class. Tube amplifiers are recreated with authentic sound and feel—each amp component has been captured, measured and matched to the real thing. Mics, cabs and effects are recreated accurately and are designed to sound instantly recognizable if you've ever spent time in a studio. Helix LT also lets you load custom impulse responses to personalize your rig setup. With uncompromised Helix sound quality and 123 dB of dynamic range, Helix LT ensures an authentic and responsive playing experience.
Shopping Options
As of the new product release date (April 3, 2017) the new Helix LT is available at AmericanMusical.com. Shipping is only 2 days to most parts of the USA. 12 payments at 0% interest (limited time offer)
###