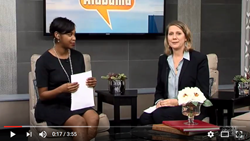 Managers were very shocked because they thought they were performing much higher than their employees rated them. - Nancy Covert
Birmingham, Alabama (PRWEB) April 04, 2017
Nancy Covert, President of Dale Carnegie of Central and Northern Alabama, was invited recently to discuss a groundbreaking study on Talk of Alabama. The study, conducted by Dale Carnegie Training, revealed the connection between leadership skills and job satisfaction.
Dale Carnegie Training polled 3,100 workers in 13 countries, from junior employees to CEOs and concluded that the most important qualities in a supervisor are also those that employees feel their supervisors exhibit least often. With 26% of the current workforce planning to look for new employment and 15% of workers already actively looking for new jobs, a staggering 4 in 10 employees are at risk of leaving their jobs in 2017. That's bad news for employers. What's more? The number one reason reported by employees was poor management.
"The managers were very shocked because they thought they were performing much higher than their employees rated them," said Covert. To address this disconnect, Covert and her team at Dale Carnegie of Central and Northern Alabama will hold a workshop for area managers to help them uncover these "leadership blind spots"; areas in which the managers thought they were doing well, but in fact were rated very low. This workshop outlined areas of concern for employees as revealed in the survey.
According to survey respondents, U.S. supervisors must develop several key behaviors to meet the demands of their employees:

admit mistakes
listen to employees
show sincere appreciation
value an employee's contribution
Similarly, U.S. employees say the top five attributes of supervisors that motivate and inspire them are:

Encouraging improvement
Giving praise and appreciation
Recognizing performance improvement
Admitting shortfalls before criticizing
Allowing employees to save face in difficult situations
Covert reminded us that 'Appreciation is something we crave even more than air and water'. If you think about it, those are things that are vital for life. Praise and appreciation are vital for employee motivation. If you'd like to see the video in its entirety, please click here.
Dale Carnegie Training has been helping individuals and organizations reach their goals for 104 years and have graduated over 8 million individuals to date. If you'd like to learn more about this study or how Dale Carnegie can work with your management team to uncover your organization's leadership blind spots, please visit http://www.birmingham.dalecarnegie.com or call 205-444-5011.