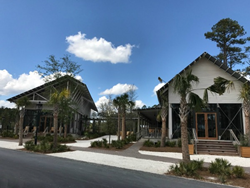 The newly introduced Moreland Village at Palmetto Bluff is a one-of-a-kind place where residential development blends with a natural and beautiful setting in the South Carolina Lowcountry.
Bluffton, SC (PRWEB) April 04, 2017
Southeast Discovery featured community Palmetto Bluff in Bluffton, SC, recently launched its newest residential development, Moreland Village. The development opened on March 24, 2017, and is the community's second residential development.
"Moreland Village is distinctly different than Wilson Village, Palmetto Bluff's first village," Schaffer noted. "Moreland's architecture is modern rustic and offers a casual relaxed feel, sort of like what you'd expect at a high-end camp. There are two outdoor pools, a fitness center with a spin classroom, a pottery and art studio, a casual restaurant, and a grab-and-go restaurant. What may very well be the highlight of Moreland is the unique, state-of-the-art bowling alley. Moreland Village is an inviting place and sure to be a hit for Palmetto Bluff families and a great meeting spot for young adults."
Located in a natural setting designed to blend into the Lowcountry landscape, Moreland Village features home sites with marsh views or adjacent to the community's nature preserve. The village will be a hub for outdoor exploration and learning, and home to Palmetto Bluff's Conservancy. Trails will connect the community and lead to convenient amenities as well as gathering spaces in the woods and along the water.
Homes will incorporate porches oriented toward the street, and a variety of lot types and sizes will help reflect the small-town informality associated with coastal living. The community will be centered on an expansive amenity complex overlooking the marsh and Lake Bales, and feature social activities and planned events throughout the year.
Moreland Village also brings with it several new additions to Palmetto Bluff, including: The Outfitters at Moreland Village, an interactive nature center offering outfitting and local art, and programs, activities and events that celebrate the Lowcountry lifestyle; the Canteen, where both community residents and the public can purchase coffee, snacks, sandwiches, and beer and wine; Cole's, a restaurant offering regionally inspired comfort food in a casual atmosphere with marsh views; The Bowling Alley at the Boundary, a four-lane, state of the art bowling alley; The Game Room at the Boundary, offering pool, foosball, master shuffleboard or a game of cards; The Art Loft, offering Palmetto Bluff residents/members and their guests a place to enjoy painting, sketching, pottery and more; and The Activity Room, offering a flexible space for Palmetto Bluff Club children's programs and activities. There are also two new outdoor pools and a new fitness facility, the community's fourth fitness center.
Another exciting new feature of Moreland Village is the Masters in Residence program, which launched in January 2017. Palmetto Bluff's Masters in Residence program is a partnership between Palmetto Bluff and Garden & Gun magazine designed to celebrate the arts, foster creativity and offer hands-on education. The inaugural program invited notable guests, including winners of Garden & Gun's Made in the South Awards, to stay in a dedicated cottage in Moreland Village, where the artists were able to relax, revitalize, and hone their craft as they created a piece of art during their stay.
"Crescent Communities, the developer of Palmetto Bluff, continues to create a one-of-a-kind place where residential development blends with a natural and beautiful setting in the Lowcountry," said Schaffer. "There is great emphasis on the history and uniqueness of this land, and the wildlife that has enjoyed it long before development started. This respect for conservation and preservation is what makes Palmetto Bluff a unique place to live and experience."
If you're considering relocating to the Southeast but don't know how or where to start your search, we can help. We've been assisting folks who come to our site from all over the U.S. streamline the process so they can find the right area and community to call home in the Southeast for over a decade. Feel free to complete our complimentary online questionnaire here, and we'll send you feedback on the best areas and specific communities that may be just right for you.
About Southeast Discovery
Since 2004, Southeast Discovery has been a trusted resource for candid information and insight on communities, developments, and general real estate in the Southeast. Through its highly-ranked web portal, newsletter and blog and its one-on-one work with clients, Southeast Discovery helps buyers actively looking for a retirement or second home in the Southeast navigate the process of identifying the right area and community for their needs. To learn more, visit http://www.southeastdiscovery.com/