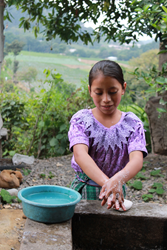 Kansas City, MO (PRWEB) April 04, 2017
Children International is partnering with the Clean the World Foundation to distribute more than 1 million bars of soap made from recycled hygiene products to kids in need by the end of 2017. These bars of soap, along with education on safe hygiene practices, will help prevent the spread of disease and potentially save lives.
According to UNICEF, 1 million children could be saved each year by learning and practicing proper handwashing. Hands are the principal carriers of disease-causing germs, and washing hands with soap at key times, such as after going to the bathroom and before handling food, can reduce rates of diarrheal disease by nearly one-half and rates of respiratory infection by about one-quarter.
Children International's health programs focus on teaching kids healthy habits, like washing their hands, so they can get and stay healthy. Thanks to Children International's partnership with the Clean the World Foundation, CI will be able to provide soap for handwashing to many families in need.
Clean the World is a B-Corp that collects and recycles soap and hygiene products discarded every day by the hospitality industry. The used soap is treated, sterilized and re-manufactured into new bars of soap. The fresh soap is then distributed by the Clean the World Foundation, a nonprofit, to their own global health programs, as well as to partner organizations like Children International, to help reach impoverished communities around the world.
"Children International is focused on making sure the kids in our program learn and practice key healthy behaviors. Handwashing is one basic, but important, component of that," says Kristen Mallory, Children International's Health and Nutrition Program Officer. "We are proud to partner with the Clean the World Foundation in educating children in poverty about proper hygiene practices and giving them the tools they need to use that knowledge."
Children International and the Clean the World Foundation have been working together since 2011.
Learn more about Children International's health programs.
About Children International
Children International is a leader in the movement to eradicate poverty. From toddler to young adulthood, we surround kids with a caring team, a safe place and a clear path out of poverty through programs focused on health, education, empowerment and employment. Our supporters are inspired as they see children radically change their lives and create a ripple effect that impacts their families and communities for generations to come.