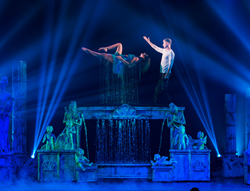 "Rob Lake fits the refreshing, entertainment experience we want to provide our guests and we're excited to bring him to the Mississippi Gulf Coast."
D'Iberville, MS (PRWEB) April 05, 2017
Scarlet Pearl Casino Resort is very excited to announce that Rob Lake will be performing three shows at The Strand Event Center on April 28th and 29th. Rob Lake's mind-blowing illusions have dazzled and entertained millions across network television, Times Square, and the Las Vegas Strip.
His mesmerizing illusion spectacular, which is uniquely presented as awe-inspiring storytelling on the grandest scale, has made him internationally known and saw him named "the Top Illusionist in the World."
He was the youngest magician in history to win the holy grail of the magic world – the Merlin Award – magic's highest honor and the industry equivalent of an Oscar. The Magic of Rob Lake performances are April 28th at 8 p.m., and April 29th at 7 and 10 p.m. "We like to do things differently at Scarlet Pearl," said Roy Sous, VP of Marketing. "Rob Lake fits the refreshing, entertainment experience we want to provide our guests and we're excited to bring him to the Mississippi Gulf Coast."
Tickets for The Magic of Rob Lake are $40 per person, and are available from Scarlet's Treasures Gift Shop, via the call center at 888-752-9772, or from http://www.scarletpearlcasino.com. Must be 21. Guests aged 12-20 are permitted when accompanied by an adult 30 years or older.
About Scarlet Pearl Casino Resort: Scarlet Pearl Casino Resort is a privately held company based in D'Iberville, MS. The casino resort features 300 hotel rooms, a Miniature Golf Course, an event center, a luxurious pool and multiple restaurants. In addition to the non-gaming amenities, the casino is home to over 1,200 Slots, including 75 Live Video Poker Machines, 37 Table Games, including Blackjack, Craps and Roulette, and a 10-table Poker Room. The casino opened in D'Iberville, MS December 9, 2015.