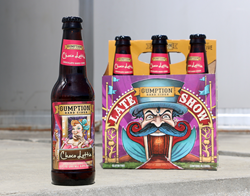 Middlebury, VT (PRWEB) April 04, 2017
Gumption® Hard Cider – the Circus of Ciders – introduces Choco Lottie, the second limited-run Late Show rotational release. Feast your eyes on the beautiful Choco Lottie, a hard apple cider heavy on chocolaty goodness with hints of caramel. Choco Lottie is the second rotational offering in the Gumption® Late Show series – a rotating array of the most innovative, and sometimes bizarre, ciders to ever grace the midway. Our mad genius cider makers are fermenting, aging, extracting and infusing with incomparable obsession, pushing the limits of cider making. The Gumption® Late Show package is truly unique – the six-pack art remains the same, but the liquid regularly changes.
"This is our innovation incubator," said Bridget Blacklock, Marketing Director. "We're creating the circus of ciders and pushing cider boundaries through wild concoctions and bold, unexpected flavors. The liquid will change every 3-4 months, because no one wants to see the same show again and again."
Gumption – The Circus of Ciders
Originally launched under the Woodchuck® brand in 2015, Gumption® is a bold and audacious brand which has been wildly successful with consumers. In December 2016, Gumption spun off from Woodchuck® as its own brand with line extensions. The original Gumption brand – inspired by PT Barnum – will be joined by a second, year-round style, Citrus Freak, in July 2017.
Gumption® Late Show Choco Lottie (6.9% ABV) will retail for $10.99 / 12oz 6-pack. It will also be available in 5.2 gallon kegs.
####
About Vermont Cider Co.
Vermont Cider Co. introduced the U.S. to the craft cider category 25 years ago. Dedicated exclusively to cider making, they are the proud producers of their namesake brand, the original American hard cider, Woodchuck®, the northeast premium hard cider brand, Vermont Cider Co., the circus of ciders, Gumption®, the west coast native, Wyder's® Cider, and importers of Magners® Irish Cider and Blackthorn®. With an unparalleled focus on quality and innovation, Vermont Cider Co. leads the category in releasing the most premium liquid and pioneering new ciders made from the finest ingredients. Under the watchful eyes of two award winning cider makers, Vermont Cider Co. produces and distributes from Middlebury, VT, blending together the passion of their consumers, their creativity, and their heritage within the green mountains.