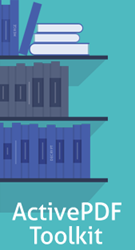 Toolkit is just the first in a line of products we will be introducing to desktop developers over the next year.
Laguna Niguel, CA (PRWEB) April 04, 2017
ActivePDF, the leader in server-based PDF creation, conversion and manipulation tools for Windows, made its move into the desktop market with the introduction of a new version of its award winning Toolkit product aimed at developers deploying desktop applications. The world-renowned programmatic PDF manipulation functionality of Toolkit has been used by professional Windows developers deploying server applications for over 17 years and has won the Visual Studio Reader's Choice Award for 11 years in a row.
The new offering of Toolkit for desktop applications delivers on the same promise as the server-based version of Toolkit, raising the bar for PDF manipulation tools by permitting desktop developers to deploy business-critical applications. The new release of Toolkit offers the same robust functionality, performance and ease of use that server-based Toolkit developers have enjoyed for years.
"As a trusted PDF solutions provider, our customers rely on us for our depth of PDF expertise, regardless of whether or not they need these capabilities for the server or the desktop," says ActivePDF CEO Tim Sullivan. "While historically we have been primarily focused on the server market, we've recently decided to expand our focus, and Toolkit is just the first in a line of products we will be introducing to desktop developers over the next year. Since we speak their language, we know that our desktop program will be a huge hit with developers, and we're excited to see what they create as a result."
ActivePDF Toolkit Desktop leverages all the latest functionality in Toolkit for server including:

Extensible Metadata Platform (XMP) functionality: XMP is designed to greatly extend metadata content regarding what is in the document. Examples include invoice numbers, patient, student, customer names, Loan IDs, or any other data within an existing infrastructure. Extended XMP data provides the ability to classify and index for document processing/archiving procedures. Now, when flattening PDF forms, the field's values can be automatically embedded as XMP so that the connection between the form and the data is never lost.
Object Stream Compression: Companies that are heavily reliant on document archiving for business, government, or regulatory requirements have a huge challenge to efficiently store and retrieve documents. Toolkit now provides a fast and efficient object stream compression method for reducing the physical size of PDF files.
Advanced Encryption Standard (AES) 256 Encryption: AES 256 offers the highest level of asymmetric encryption permitted by the ISO-32000 standard for PDF.
Performance: Throughout the Toolkit product, enhancements have been implemented to keep Toolkit being the fastest performing PDF manipulation solution on the market.
Availability
ActivePDF offers a no-charge, 30-day trial of Toolkit Desktop which may be downloaded at https://www.activepdf.com/products/toolkit. Pricing is set at $899 per developer instance and a royalty-free site runtime license.
About ActivePDF
Founded in 2000, ActivePDF, Inc. is privately held and is a global provider of PDF tools for integration within virtually any business process, including Enterprise Content Management (ECM), Document Management, and Workflow solutions. The ActivePDF suite is designed to streamline large volumes of rendering and assembly of content into accurate, secure and accessible PDFs. We serve over 25,000 customers from 90 countries in numerous industries including: Healthcare, Financial, Education, Manufacturing, Utilities, Engineering, Legal and Government. For more company information, visit ActivePDF at https://www.ActivePDF.com.
###
ActivePDF is a registered trademark of ActivePDF. All other trademarks are property of their respective owners.