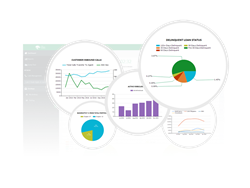 We built a platform by lenders for lenders.
Melville, NY (PRWEB) April 04, 2017
The Money Source Inc., a rapidly expanding nationwide mortgage lender and loan servicer, has launched SIME (Servicing Intelligence Managed Easily), a new web-based servicing platform that integrates into legacy systems and dramatically changes how loans are serviced.
"SIME (pronounced Sim-mee) consolidates layers of loan servicing, typically accessed through dated platforms, into a simple format with intuitive dashboards and reports. The enhanced field-level access has allowed us to reduce delinquencies and manage smarter and more efficiently," said Ali Vafai, President of The Money Source.
With SIME, clients of The Money Source can see everything that The Money Source servicing staff see on each loan. Clients can listen to recorded calls, see all notes, download documents in an instant, all over a web browser. Custom reports can be created on the spot without any programming experience.
"As lenders we need full transparency along with the reassurance we are meeting all regulatory guidelines. We are pleased to share the SIME experience with our new subservicing clients," Vafai said.
The Money Source's servicing center is ranked by Morningstar and the company is also Fannie Mae, Freddie Mac and Ginnie Mae approved. In the past year The Money Source has added new divisions, 500 new employees and three offices; the Money Source now maintains over 110,000 square feet of office space. The Money Source was recently named a top national mortgage employer by National Mortgage Magazine and a Silver Stevie® Award winner in the first annual Stevie Awards for Great Employers.
More information on SIME can be found at http://www.GetSIME.com.
About The Money Source
The Money Source Inc. is a national mortgage lender and mortgage loan servicer, with offices in Santa Ana, Calif.; Walnut Creek, Calif.; Melville, New York; Tempe, Ariz.; Phoenix, Ariz. and Meriden, Conn. For more information on The Money Source, visit themoneysource.com.