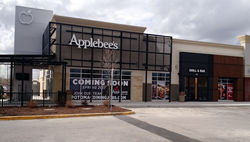 Norfolk, Va. (PRWEB) April 05, 2017
Potomac Family Dining Group, the Tidewater-area's Applebee's franchisee, is opening its newest Applebee's location with the restaurant chain's modern reimagined design on Monday, April 10 at 725 Little Creek Marketplace, Unit 501, in Norfolk. The Grand Opening featuring ribbon-cutting ceremony with President & Chief Operating Officer Dennis Benson and representatives from the city of Norfolk will commence at 10:45 a.m. on Monday morning.
The new Norfolk restaurant will showcase Applebee's latest design of a modern grill and bar, featuring exposed stone and brick, industrial-style lighting and a covered patio. The restaurant décor highlights the local Norfolk neighborhoods. The dining room and bar will seat up to 150 guests, with the patio seating up to 50 guests.
"We are thrilled to bring the latest Applebee's design to our loyal patrons in Norfolk," says Dennis Benson, President & COO of Potomac Family Dining Group. "The restaurant's latest design focuses on the Norfolk lifestyle of outdoor living with our covered patio. We truly value our guests and are excited to share this milestone with them."
Guests can enter to win FREE Applebee's for a year* when they visit the new restaurant and sign up for Little Creek's e-mail club by Sunday, April 30. On May 1, 20 winners will be drawn, and each will receive vouchers good for two free adult entrées and two non-alcoholic beverages per month for an entire year.
The Little Creek Applebee's menu features new menu items such as Nashville Hot Chicken Sandwich, BBQ Brisket Tacos, Whisky Bacon Burger, Fire Roasted Chicken Salad Wrap and Double Bacon Spicy Chicken Sandwich. The new menu also includes the newest entrées added to the 2 for $20/$25 menu for a limited time: Spinach & Artichoke Chicken Cavatappi, Firecracker Shrimp Cavatappi, Caprese Mozzarella Burger, and Caprese Mozzarella Chicken.
Applebee's Happy Hour specials will be available upon opening Monday through Friday from 3-7 pm featuring $2 domestic drafts all day and $3 Fireball Whisky shots. Late night features such as ½ Price Appetizers will also start on April 10, offering guests a selection of appetizers ½ price on Sunday through Thursday from 9pm to close.
The Applebee's Brand
Applebee's is the world's largest casual dining chain, with more than 2,000 locations in 49 states, 16 countries and one U.S. territory. Based in Glendale, Calif., Applebee's offers a lively bar & grill experience with an array of flavorful, hand-crafted drinks, appetizers and entrees that constantly evolve. Applebee's Grill & Bar® restaurants are franchised by DineEquity, Inc.
About Potomac Family Dining Group
Potomac Family Dining Group (http://www.potomacdining.com) owns and operates 64 Applebee's Grill & Bar® restaurants in the Mid-Atlantic region, including Virginia, Maryland, Pennsylvania, West Virginia and North Carolina. Headquartered outside of Washington, D.C., Potomac is focused on delivering a personalized, fun, friendly, carefree dining experience. Potomac Family Dining is also dedicated to ensuring that each location is reflective of its neighborhood and provides local residents, business professionals and travelers with a true neighborhood experience.