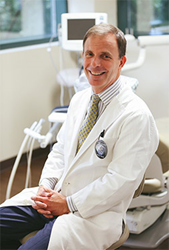 Winston-Salem, NC (PRWEB) April 04, 2017
As the first periodontist in North Carolina to offer EXPAREL®, Dr. Kenneth Peavy now provides a solution to surgical pain relief for up to three to four days after surgery without narcotics. EXPAREL is a time-released local anesthetic now available to dentists to aid in post-surgical pain control. As a respected periodontist in Winston-Salem, NC, Dr. Peavy strives to provide the latest periodontal techniques and sedation dentistry at his practice.
Pain following oral surgery is a major concern of patients and the fear of it is often the reason stated for avoiding the treatment people need. Fortunately, Pacira Pharmaceuticals, Inc. has made EXPAREL available to dentists to help reduce the pain after surgery for up to three to four days.
Pacira developed a way to slowly release a local anesthetic, Marcaine, at the site of the surgery. After the patient's mouth is numbed, EXPAREL is injected around the surgical site and helps to reduce pain for several days. Marcaine provides analgesia, or a lack of pain, without causing anesthesia, a lack of all feeling. This means that patients will feel pain relief without the feeling of numbness. EXPAREL has been used in medicine for pain control with a variety of types of general surgery for 2.5 million patients over the past five years and is now available for use by dental clinicians.
EXPAREL reduces the pain after surgery to such an extent that narcotics may not be needed. Over-the-counter pain relievers may be all that is needed after surgery. Reducing narcotic use is an important benefit because while narcotics can be helpful, they can cause some unpleasant side effects as well. These may include nausea/vomiting, constipation, dizziness, limitation of decision-making abilities and worst of all, can lead to dependence or addiction. Dr. Peavy feels strongly about this issue. "There is an epidemic of narcotic addiction in our country and we should do what we can to reduce the use of narcotics and the suffering that addiction leads to," says Dr. Peavy.
As a result, Dr. Peavy and his team uses sedation techniques and local anesthesia to provide a relaxed and virtually pain-free surgical experience at their practice. With the addition of EXPAREL, he says, "we can help ensure an easier recovery than ever before."
Dr. Peavy and his periodontal team strive to reduce the fear of pain following surgery to help patients relax and focus on healing and returning to their normal activities. To learn more about EXPAREL, visit http://www.exparel.com. To schedule a consultation with a skilled Winston-Salem, NC periodontist and learn more about this revolutionary new medication, call Dr. Peavy's practice at 336-774-3001.
About the Doctor
Dr. Kenneth Peavy is a periodontist offering personalized dental care for patients in Winston-Salem, NC, since 1996. Dr. Peavy completed his undergraduate studies at the University of North Carolina at Chapel Hill. He earned his dental degree at the Medical University of South Carolina in 1989, College of Dental Medicine. He finished his residency program in General Dentistry at the Medical College of Georgia and his certificate in periodontics at the Medical University of South Carolina. He also earned his Master's Degree in Health Sciences. Dr. Peavy joined an exclusive group of doctors to offer The Pinhole Surgical Technique (PST™) for gum recession treatment. To learn more about Dr. Peavy and his dental services visit his website at http://www.happygumshop.com and call 336-774-3001.