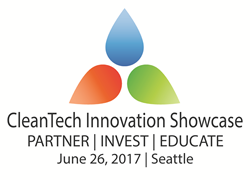 The CleanTech Innovation Showcase gathers these innovators into a single location to spotlight the future of clean energy and sustainable technologies.
SEATTLE (PRWEB) April 04, 2017
CleanTech Alliance announced that Steven Martin, Vice President and Chief Digital Officer of GE Energy Connections, will keynote the CleanTech Innovation Showcase 2017 on June 26 in Seattle. Martin is the latest CleanTech Innovation Showcase keynote speaker to be announced, joining Dr. Mark Peters, Director of the U.S. Department of Energy's Idaho National Laboratory. The event is sponsored by Washington State University, The Boeing Company and Seattle City Light.
GE Energy Connections designs and deploys leading technologies that transport, convert, automate and optimize energy to ensure safe, efficient and reliable electrical power. The company recently announced an effort to strengthen the electrical grid for half a billion people in India. The project will develop an 848 mile energy highway to address the country's growing power needs. Initial transmission was completed in early 2017, delivering reliable energy to an estimated 46 percent of the country's population.
As Vice President and Chief Digital Officer, Martin leads GE Energy Connections' efforts to develop end-to-end software and cloud solutions to help customer digitization efforts. This includes the activation of product, service and solution roadmaps, and designing new customer experiences and business models. Prior to joining GE, Martin served as General Manager and Chief Data Scientist for Azure at Microsoft. Over his 20-year career, he has held leadership positions across engineering, product management, venture capital and strategy.
Held June 26, 2017, at the Bell Harbor International Conference Center in Seattle, the CleanTech Innovation Showcase is the region's premier one-day conference focused on technology and business innovation. The event convenes 500+ cleantech industry leaders, investors, policymakers and media. More than 75 companies were featured at last year's event, including 24 presenting companies.
"GE is continually named a global leader in energy innovation. Steven Martin's presentation will demonstrate how clean technology innovations can improve quality of life across the globe while shaping our economy," said J. Thomas Ranken, President and CEO of the CleanTech Alliance. "The topic aligns perfectly with the CleanTech Innovation Showcase as well as the overarching mission of the CleanTech Alliance."
The CleanTech Innovation Showcase spotlights industry leaders, emerging companies and research institutions. The Boeing Company, Seattle City Light and Washington State University are principal sponsors of the event.
"Partnering with clean technology innovators is a critical part of Washington State University's strategy for becoming a top 25 research university in the U.S.," said Dr. Michael Wolcott, Director of the Institute for Sustainable Design and Acting Director for the Composite Materials and Engineering Center at Washington State University. "The CleanTech Innovation Showcase gathers these innovators into a single location to spotlight the future of clean energy and sustainable technologies. It's a great opportunity for us to meet with current and future partners from across the U.S., Canada and beyond."
CleanTech Innovation Showcase registration is now open. Additional branding opportunities are available through several customizable sponsorship and exhibit packages. Contact Kate Kavuma at kate(at)cleantechalliance(dot)org or 206-389-7255 to build a package to meet your branding needs.
About the CleanTech Alliance
CleanTech Alliance represents more than 300 member companies and organizations across the Northwest region. Founded in 2007 by business leaders, the organization facilitates the generation and growth of cleantech companies, jobs, products and services to advance the cleantech economy. CleanTech Alliance offers a range of business services and benefits uniquely designed to help businesses gain visibility, access services at a lower cost and benefit from public policy. Learn more at http://www.CleanTechAlliance.org.