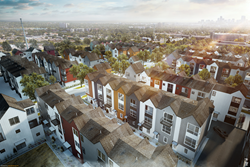 We listened to today's buyer in this area, and they are looking to purchase new homes, attainably priced, with a high level of design with easy access to transit.
Denver/Lakewood, Colorado (PRWEB) April 04, 2017
DIRC Homes and Trailbreak Partners announced their plans today for West Line Village, a transit oriented development (TOD) that includes 134 new rowhomes located at W. 10th Avenue and Depew Street in Lakewood, Colorado. Adjacent to Sheridan Station, the phased development will include nine distinctive floor plans ranging from 800 to 1,750 square feet, including studios, 1, 2, and 3 bedroom homes, 1 and 2 car garages, as well as a front or back yards to enjoy the Colorado sun.
West Line Village is named after RTD's W Line, the 12 mile light rail line that runs between Denver's Union Station, Lakewood, and Golden. The new community capitalizes access to multiple modes of transportation and easy connections between Downtown Denver and the west.
"West Line Village brings much-needed new housing to the West Side of Denver," said Paul Malone, President of DIRC Homes. "We are able to create a great sense of community since we have such a large site here. We listened to today's buyer in this area, and they are looking to purchase new homes, attainably priced, with a high level of design with easy access to transit."
The stylish simplicity of West Line Village includes pitched roofs and the use of minimalist materials. Every home is street-facing to provide a strong sense of community. Innovative streetscape design combines varied colors and textures, and the landscaping for each home creates individuality within the neighborhood.
Buyers can enhance their homes with a range of upgrade options, including: balconies, gas fireplaces, hardwood floors, appliance and finish upgrades, and storage solutions.
To execute the project, DIRC Homes is leveraging its experience with urban infill new home construction by uniting with Trailbreak Partners, a Denver-based urban redevelopment firm and T.O.D. Properties, whose focus is transit close properties. The group tagged RHAP architecture + planning based in Boulder, CO as the architect. Daniel Rotner, AIA and Ryan Hanneman, NCARB, have over 40 years combined architectural experience, undertaking commercial and residential neighborhood development, new construction and remodels.
"Our idea is to create a community that leverages the metropolitan areas investment in mass transit," said Doug Elenowitz, Principal of Trailbreak Partners. "Whether you want to commute by bike, train, or bus, the whole idea is to create a neighborhood where you are close to downtown, have easy access in and out of town, and really capitalize on the opportunity for thoughtful infill development."
The West Colfax area is seeing dramatic changes along its western corridor. Major recent changes to this up-and-coming area include the West Line and Sheridan Station, the St. Anthony's redevelopment (SLOANS), improvements to the Dry Gulch area, and many retail additions. The population growth of Denver and resulting traffic is at an all-time high, so living west of I-25 saves time getting out of town to the mountains; residents are 5 stops to Downtown Denver, 7 stops to Golden.
West Line Village broker, Jeff Plous of ONE Realty added, "With inventory for homes in the secondary market and new construction market so low, I'm excited to be a part of bringing this community to life. Being able to offer thoughtfully designed, well built homes for prices that haven't been seen in several years is exciting. More and more of my clients are moving to Denver and want to use Light Rail as their main mode of transportation. West Line Village is the neighborhood so many Buyers have been waiting for."
"We think West Line Village presents a terrific opportunity for buyers who have been unable to find opportunities in the market. It features high design, is well located, and it's a neighborhood; not just a one-off project. Most importantly, we are able to deliver these homes at accessible prices. The opportunity to own a new home at these prices without being in the suburbs is almost unheard of," said Elenowitz.
---
About DIRC HOMES
Coming up on their five-year anniversary, DIRC Homes LLC is a full service residential development and home building company focusing on Urban Infill Developments in the greater Denver area. The Company offers a wide range of services including: general contracting for local real estate developers, custom home building, residential development, consulting, and pre-construction services.
For more information visit http://www.dirchomes.com
About TRAILBREAK PARTNERS
Trailbreak Partners is an investor in predominately off market value add commercial properties and a developer of urban mixed use real estate in Colorado. The principals have unique expertise in successfully managing the complexities of urban development including entitlements, environmental issues, infrastructure, and public finance.
For more information visit http://www.trailbreakpartners.com
About T.O.D. PROPERTIES
T.O.D. Properties specializes in the development, investment, and brokerage of properties in close proximity to existing and future light rail stations and transportation nodes in the Denver Metro area.
For more information visit http://www.todproperties.com
Agency Contact: DB Marketing | Doug Backman | 303.468.3974 | doug(at)dbmarketingltd(dot)com
West Line Village Sales Contact: ONE Realty | Jeff Plous | 303.317.5758 | Jeff(at)MakingDenverHome(dot)com