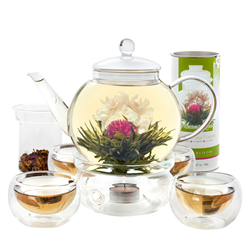 Teabloom introduces a brand new Teapot Gift set and Heart-shaped Blooming teas just in time for Mother's Day
Florida (PRWEB) April 05, 2017
More flowers are sold on Mother's Day than any other holiday, even Valentine's.
The reason is simple. Most people only have one sweetheart, but many Americans shop for more than just their mother. Mother-in-laws, grandmothers and stepmothers count for a large percentage of the floral gifts sold and most men buy flowers for their wives.
This year, don't follow the crowd. Be different. Give something brand new.
Teabloom, a South Florida company known for leading the way in Flowering teas made from the finest Grade AA Green tea, has launched another new line of blooming teas. These blooming teas are heart-shaped.
Teabloom prides itself on creating healthy alternatives to the traditional flower giving routines most Americans get trapped into. "According to a survey by the National Retail Federation, 66% of those celebrating Mother's Day will buy mom flowers, spending an estimated $2.4 billion dollars."
And while giving and receiving flowers is a wonderful idea, Teabloom has created an entirely new twist on the concept.
Flowers that bloom immediately.
There is no need to plant a flower garden and wait. It's immediate. All it requires is hot water.
The beauty of flowering teas lies in it's simplicity. There are no preservatives or artificial flavoring. Green tea leaves are wrapped around edible blooming flowers like jasmine, lily, marigold and chrysanthemums. When hot water is poured over them, they unfurl, releasing a beautiful floral arrangement in the teapot.
And a bonus of watching tea flowers bloom is the delicious tea it makes in the process. Teabloom has assorted flowering teas in fruit flavors like strawberry, mango, cinnamon, litchi, pomegranate and jasmine.
It tastes perfect hot or cold and delivers healthy doses of antioxidant-rich polyphenols and nutrients which provide great benefits for skin, mind, joints and organs.
So give more than just flowers this year. Give the gift of health.
This gift can be ordered on Teabloom.com and delivered to the recipient's doorstep.