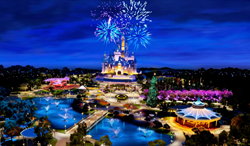 Clients such as Disney contribute to a sustainable world for our children and grandchildren. They use fuels efficiently, reduce carbon footprint and pollutants, and contribute to a cleaner world. - Murray Millander, CEO ENRGISTX
San Marcos, CA (PRWEB) April 04, 2017
ENRGISTX brings to the US the world's leading manufacturer of custom absorption chillers, delivering best in class efficiencies, capacities and reliability from Shuangliang Eco-Energy.
The beauty of the Eco-Energy chillers is their ability to be designed specifically for the power generator waste energy to maximize plant efficiencies.
This CCHP plant is operated and built on the resort site by Shanghai New Energy. Installed capacity is 35 megawatts (MW) and up to 8,800 Tons of chilled water.
Located in Pudong District, Shanghai Disney Resort covers an area of 3,900,000 m2. It consists of Shanghai Disneyland, two themed hotels, large-scale retailing, restaurants and entertainment centers, recreational facilities, artificial lake, parking and transportation hub. The customized distributed energy system is driven by natural gas to produce cooling, heating, power and compressed air.  At present, five units of Shuangliang flue gas/hot water operated LiBr absorption chiller/heaters are applied in this system combined with five GE Jenbacher gas engine generators. The plant is designed to allow three more generators and chillers to be installed for maximum output.
Each year, the plant is estimated to produce 170 million kWh of electricity and almost 43 million tons of air conditioning, at the same time reducing CO emissions of up to 75,000 tons.
"To echo the National Energy Administration's call for distributed power development, we are following the low carbon and energy saving planning concept to build the Shanghai International Tourism and Resorts Zone, a demonstration project of the low carbon park. GE's CCHP technology will be a huge driver to make it happen," said Guangzhao Huo, general manager of Shanghai New Energy. from "GE Teams up with Shanghai New Energy to Bring Greener Power to Shanghai's International Tourism and Resort Zone" – November 10, 2014.
For All Inquiries Contact:
Paul Hewitt
email: paul.h(at)enrgistx(dot)com
844-367-4478 x701