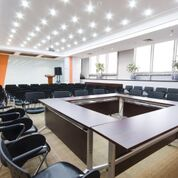 "ETi Color Preference Series for the Color of your Life."
(PRWEB) April 11, 2017
ETI Solid State Lighting, a leader in high-quality, commercial and residential lighting solutions, announces the newest member to its series of high-brightness, energy-efficient retrofit LED Recessed Downlights. The Color Preference Series downlights are Energy Star and UL/cUL listed, selectable correlated color temperature ceiling can-style downlights ideal for indoor use in architectural - décor lighting and commercial applications: hospitals & medical facilities, hotels and resorts. They only use 11 Watts of energy and can replace halogen bulbs up to 75 watts — a tremendous energy savings of up to 80%.
The Color Preference Series fits 4-inch, 5 and 6 inch, and 8 inch ceiling can openings. They come with pigtail wires connected to a quick-disconnect connector attached to a standard male screw base connector that can be detached and hard-wired into a two-wire ceiling can fixture connection. It has a softly frosted, white-diffused, flat-precision, polycarbonate lens that directs light in a wide floodlight illumination pattern, while providing high-brightness of 625 to 1300 lumens, depending on LED light Color. The Color Preference Series operates on a voltage input of 120VAC, offering long-lasting durability and easy drop-in installation. These new state-of-the-art LED recessed Color Preference downlights are available in settable white LED color temperatures: Warm 2700K, Warm White 3000K to 3200K, Natural White 4000K to 4500K and Pure White 5000K to 5500K range. These recessed downlights maintain 70 percent or greater of LED lumens at 50,000 hours of 24/7 operation — a lifespan many times longer equivalent incandescent bulbs.
These economical, high-quality LED recessed dimmable downlights are perfect in non-wet outdoor or dimming indoor flood lighting applications such as ceiling-can downlight fixtures as security and emergency lights, general/architectural and landscape lighting, retail store, display case fixtures and cabinet lighting, sign spot lighting, OEM equipment lighting, bio-medical and medical applications, museums or theatrical-effects lighting.
About ETi Solid State Lighting, Inc.
ETi Solid State Lighting is a wholly owned subsidiary of Elec-Tech Solid State Lighting (HK) Ltd., providing the latest in LED lighting technology with a growing line of products that include LED tubes, fixtures, LED down lights, and portable under cabinet lights. With Jadestone managed funds holding 100% interest in Elec-Tech Solid State Lighting (HK) Ltd., the company is now well-positioned for further growth and value creation building on its robust manufacturing value chain, end-user driven innovation product development, global management team and strong customer base.