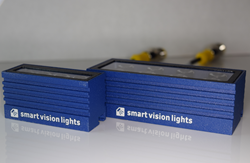 Muskgeon, Michigan (PRWEB) April 03, 2017
Smart Vision Lights, a leading designer and manufacturer of high-brightness LED lights for industrial applications, is proud to announce that its LM Series of Mini LED Machine Vision Lights with Multi-Drive ™ Dual-Mode Internal Drive received the gold award for product innovation from Vision Systems Design magazine's Innovators Awards program during the Automate conference in Chicago.
The judging panel consisted of esteemed experts from system integrator and end-user companies.
Size and power contributed to the decision to bestow Smart Vision Lights' LM45 and LM75 Series with a gold-level award, as well as the products' unique built-in MultiDrive™ feature, which allows users to employ continuous operation or OverDrive™ strobe mode depending on wiring method.
"Our 'mini lini' lights have become the go-to LEDs for machine vision experts who need compact yet powerful illumination," says Dave Spaulding, president of Smart Vision Lights. "These versatile linear lights deliver at least five times the power and intensity of similar size lights currently on the market. I couldn't be more proud of our innovative team that just keeps designing one award-winning product after another. These lights are just another example of our dedication and commitment to being the leaders in innovation for the machine vision industry."
The industry-standard 5-pin M12 quick-disconnect cable makes for simple wiring. Each series also features overcurrent protection, PNP and NPN strobe input, and continuous operation or strobe mode. With housing just 51 mm long, the LM45 puts out unprecedented levels of light in one of the industry's smallest footprints. Standard wavelength colors are white, 470 nm blue, 530 nm green, 625 nm red, and 850 nm IR. Additional wavelengths are available upon request.
Multiple lensing options give this light a broad spectrum of illumination area, while the 0–10 V analog control offers total command over intensity. The mini linear lights come standard with a narrow lens, although wide and line lenses are available. The LM45 includes four high-output LEDs, compared to the LM75's eight LEDs. The lights can be mounted via a rear T-SLOT channel and specially designed mounting hardware is also available.
More information about the LM45 and LM75 Series of mini linear lights is available at
http://smartvisionlights.com/products/mini-linear-lights.
The 2017 Visions Systems Design Innovators Awards Honorees are featured in the June Issue of Vision Systems Design magazine as well as on http://www.vision-systems.com.
About Smart Vision Lights
Smart Vision Lights (Muskegon, Mich.) is a leading designer and manufacturer of high-brightness LED lights for industrial applications, including machine vision. Smart Vision Lights products come with universal internal current-control drivers, offering constant or strobed operation, reduced wiring requirements, and easy installation. Smart Vision Lights products also are the safest on the market thanks to the company's in-house IEC 62741 light-testing laboratory, guaranteeing conformity and compliance for your lighting systems, regardless of where they are installed around the globe. Learn more at SmartVisionLights.com or by calling (231) 722-1199 in the U.S.
# # #
About Vision Systems Design
Published since 1996, Vision Systems Design is a global resource for engineers, engineering managers and systems integrators that provides comprehensive global coverage of vision systems technologies, applications, and markets. Vision Systems Design's magazine, website (http://www.vision-systems.com), email newsletters and webcasts report on and analyze the latest technology and business developments and trends in the worldwide machine vision and image processing industry.
About The Vision Systems Design 2017 Innovators Awards Program
The Vision Systems Design 2017 Innovators Awards program reviewed and recognized the most innovative products and services in the vision and image processing industry. Honorees were announced at Automate 2017 held in Chicago, IL, USA. Criteria used in the Innovators Awards ranking included: originality, innovation; impact on designers, systems integrators and end-users; fulfilling a need in the market that hasn't been addressed, leveraging a novel technology, and increasing productivity.