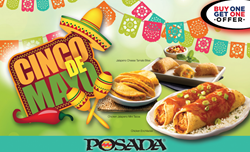 Ontario, California (PRWEB) April 04, 2017
Posada, an Ajinomoto Windsor brand, is excited to celebrate the food, culture and traditions of Mexico on Cinco de Mayo and will be offering special promotions for restaurant operators on products ranging from taquitos and tamales to enchiladas.
Cinco de Mayo is one of the most important holidays for Mexican-Americans, and is a time for families to come together to celebrate their rich heritage. It's also an ideal time to expose people of other cultures to Mexican cuisine, which is cherished around the world.
Recognized as one of the most premium frozen Mexican food brands in the United States delivering a wide variety of products to restaurants throughout the country, Posada is focused on providing both traditional and innovative dishes that showcase the versatility of Mexican cuisine.
The upcoming promotion, which begins on April 1, 2017 and ends on December 31, 2017, is a way for Posada to celebrate the holiday while also providing discounts to restaurant operators so they can explore new dishes and find creative ways to expand their menus, especially leading up to Cinco de Mayo.
For more information on the promotion, please visit the follow link: http://posadafoodservice.com/cinco-de-mayo/
About Posada:
The POSADA brand was introduced in 1980 to serve a new premium, upscale market niche that redefined the frozen Mexican food service industry, shifting the product focus from cost to quality. Soon after, the company's geographical coverage was expanded nationally from its previous focus on the Southwestern United States, and POSADA grew quickly into one of the most premium frozen Mexican foods products in the U.S.
About Ajinomoto Windsor, Inc.:
With a vision to create meaningful food experiences through high quality ingredients and innovative technologies, Ajinomoto Windsor Inc. is a leader in the frozen food industry. The company is committed to providing consumers nutritious and premium meals that honor Ajinomoto Windsor's rich history of diverse ethnic foods (Asian, Italian and Mexican) and appetizers – Ajinomoto Windsor satisfies consumers varied tastes with its broad palate of products. The company's mission is to create memorable experiences through its meals, and to ensure that food not only tastes great, but feels great.
Contact:
Ajinomoto Windsor, Inc.
4200 East Concours Drive, #100
Ontario, CA 91764
1-800-548-6363
http://www.ajinomotowindsor.com