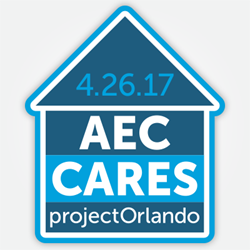 CINCINNATI, OH (PRWEB) April 04, 2017
Every year for the past seven years, AEC Cares devoted its annual blitz build to help an underprivileged community in the United States. On April 26, 2017, the day before the AIA National Conference on Architecture at the Orange County Convention Center, "projectOrlando" will bring together volunteer construction and design professionals from around the country to refurbish the Coalition for the Homeless of Central Florida's (CFH) Center for Women and Families (CWF). This year's sponsors include USG, YKK AP, The Vinyl Institute, Kawneer Alcoa, ProEst, and Panolam.
"With the help of 125+ volunteers, sponsors, architects, contractors and manufacturers, AEC Cares will perform a 'facelift' for the CFH, renovating the lobby, the living quarters and the TV room," said Laura Marlow, ConstructConnect vice president of business development and AEC Cares executive director. "We're excited to partner with the AIA, Hanley Wood and our generous donors to help the CFH better serve the hundreds of Orlando homeless who depend on them for food, shelter, and services. Working together, we can leave Orlando better than we found it."
The CFH is the largest provider of homeless services in Central Florida. It furnishes temporary residences and comprehensive services to help provide economic and housing stability for its clients. The CWF can accommodate up to 240 people. During the blitz build, AEC professionals will improve the Center's lobby, dormitory hallways, and family room. The renovation of the CWF offers a chance to bring positive changes to the homeless community.
"We at USG are proud to be a platinum sponsor of AEC Cares projectOrlando," said USG's Director of Product Management, Mark Kemerling. "Community investment is an important part of our sustainability focus. Through AEC Cares, we're able to give back to a needy community in Orlando through our donation of time, effort, and resources. We're looking forward to rolling up our sleeves at the blitz build on April 26!"
ConstructConnect, a leading provider of construction information and technology in North America, the AIA and Hanley Wood Media have teamed up for the past seven years on the AEC Cares annual blitz build, which provides support for worthwhile projects in diminished communities throughout the United States.
In 2011 AEC Cares launched its first project in which its volunteers rebuilt five homes devastated by Hurricane Katrina. Subsequent projects included revitalizing houses for homeless teens in Washington D.C. and transforming a 30-year-old former school building into a cheerful up-to-date daycare and early learning center for impoverished children in Chicago's Southwest Side. AEC Cares' most recent project included revitalizing an inner-city Philadelphia athletic recreation center.
To sponsor the AEC Cares project or to find additional information, visit aeccares.com.
About ConstructConnect
ConstructConnect is a leading provider of construction information and technology solutions in North America. Through the combination of its four legacy brands (iSqFt, Construction Market Data, BidClerk and Construction Data), ConstructConnect brings project participants together with the most complete, accurate and actionable construction data and tools to drive success in national, regional and local markets. Its collaborative network empowers the construction industry to be more successful with access to relevant information through easy to use technology. For more information, visit constructconnect.com.
About AEC Cares
AEC Cares is a 501c3 not-for-profit corporation actively supported by ConstructConnect with the AIA and Hanley Wood, generous sponsors, donors, and volunteers. Bringing together architects, contractors, manufacturers and industry professionals from across the United States and Canada, AEC Cares works to create positive change through meaningful projects that benefit a new community every year. To learn more about AEC Cares, visit aeccares.com.