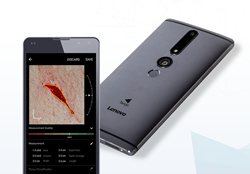 3D-sensing is becoming ubiquitous, and it's going to redefine how we provide wound care in this country
Fairfax, VA (PRWEB) April 05, 2017
eKare Inc., a medtech company based in metropolitan DC, announces inSight® 2.0, the first Google Tango-enabled medical app in the US. eKare has previously developed inSight®--the first truly mobile 3D wound imaging solution on the iOS platform.
inSight® addresses the unmet need for accurate and consistent measurement in wound care. Traditionally, wound measurement are done manually using rulers and q-tips with up to 40% error (source). Building on top of its first generation product (based on Apple iPad® & Structure Sensor), inSight® 2.0 delivers the same level of accuracy and consistency on Google Tango-powered smartphones. "This is one of those industry-transforming moments. 3D-sensing is becoming ubiquitous, and it's going to redefine how we provide wound care in this country." says Kyle Wu, MD, Chief Medical Officer of eKare Inc.
inSight® 2.0 is currently undergoing validation studies. "What sets us apart from other wound apps out there is our strict quality standard. eKare is an ISO-certified and GMP-compliant medical device manufacturer. Measurement quality is something we absolutely will not compromise," Patrick Cheng, eKare's CEO, remarks.
In addition to 3D measurement and tissue classification, eKare is also developing other wound assessment modalities, including thermal imaging and circumferential scanning. "Our goal is to be a platform technology for advanced wound assessment. What's even more exciting is to be able to apply predictive analytics on these data to guide patient care," says Dr. Wu. To that end, eKare is currently working with leading medical institutions globally to establish new standards.
Upcoming Events
eKare will be attending the SAWC Spring in San Diego, CA from April, 5-9th, 2017, Booth 242. inSIght® 2.0 will be available to demo.
About eKare
eKare Inc. is an FDA-registered medical device manufacturer and is ISO-13485 certified. inSight® is FDA Class1 device and is CE-marked as Class1m.
eKare Inc. is dedicated to the design and development of wound assessment solutions using the latest computer-vision and mobile technology. eKare's innovative technology is creating new possibilities in how we deliver wound care across the healthcare continuum, from inpatient hospital and skilled nursing facilities to ambulatory clinics and telemedicine. eKare's mission is to advance the science and delivery of wound care by leveraging mobile and sensor technologies to connect patients, providers, and industry. http://ekare.ai
Apple and iPad are trademarks of Apple Inc.
Tango is a trademark of Google Inc.
Structure Sensor is a trademark of Occipital Inc.