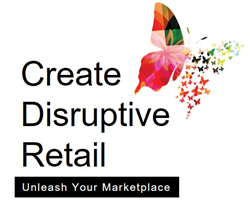 "In today's rapidly changing retail market, it is more important than ever for companies to retain a competitive edge and provide consumers with a more personal shopping experience." - Rosanne Rosen, Advisory Board Member, Gustie Creative LLC
Boca Raton, FL (PRWEB) April 05, 2017
Gustie Creative is pleased to announce the launch of Create Disruptive Retail, createdisruptiveretail.com a proprietary virtual to physical retail platform devoted to designing unique offline retail solutions for companies, agencies, and non-profit organizations.
"We believe brands and businesses need a variety of virtual to physical retail solutions, so we created an exclusive and proprietary virtual design platform that provides cutting edge information, proven marketing strategies, and targeted paths of design," said Karen S. Herman, Founder of Gustie Creative. "As we grow and learn what our community and subscribers are most interested in, we will be adding video tutorials, e-learning modules, and design features with AR."
Gustie Creative's research finds that today's retail landscape is strongly influenced by macro changes in the economy, society and technology, and small to medium size businesses, agencies and non-profit organizations need the means to adapt to these changes to survive. Create Disruptive Retail offers a proprietary mix of market-driven strategies and an exclusive curation of disruptive retail design solutions that offer fast, efficient, and effective ways to take a brand or business into the offline marketplace when, where, and for as-long-as desired.
"In a new retail world order where online retail has become ultra-competitive and big retail competitors are dominant, retailers must be different and disruptive to get our attention. With Create Disruptive Retail, Gustie Creative has developed a platform right in the middle of this fascinating world of fashion trucks, pop up shops and in-person selling that will define the future of retail for online brands." - Dan Gudema, Founder of StartupPOP, an entrepreneurial event and networking company based in South Florida.
In 2015, Gustie Creative appointed an advisory board to provide strategic guidance as the company continued to research the ever-changing retail landscape, explore new design concepts and retail trends, beta test new technologies and focus efforts to bring innovative products to the retail marketplace.
"In today's rapidly changing retail market, it is more important than ever for companies to retain a competitive edge and provide consumers with a more personal shopping experience that provides a meaningful bridge between them and your product. It's the most innovative way to make sure they talk to others about their experience and ensure they feel connected to your business. Create Disruptive Retail provides that creative and exclusive solution." - Rosanne Rosen, advisory board member and former People to People Senior Vice President of Operations.
Create Disruptive Retail is a retail solutions platform that helps its subscribers create unique environments that bridge the virtual to physical shopping experiences for today's consumer in ways that are entertaining, educational, engaging, and interactive. To increase awareness of virtual to physical retailing, Gustie Creative offers a complimentary monthly newsletter for subscribers to the Create Disruptive Retail website. The company also hosts DisruptShops, half day to full day workshops on specific Disruptive Retail marketing strategies and design paths.
Gustie Creative will be coming out with a second product later this year. The company will publish an expert guide called "The Definitive Guide to Disruptive Retail" in November 2017. It is currently available for pre-order on createdisruptiveretail.com.
About Gustie Creative LLC
Gustie Creative gustiecreative.com is an innovative disruptive retail design and strategy firm specializing in full service commercial design, retail design strategy, strategic marketing, and design innovation with AR and VR. The company is headquartered in Boca Raton, FL. Clients include Bagel Twins Bagelry & Restaurant, FloSpine, Go Team Travel, HelpedHope.com, Social Enterprise Conference 2016, Warren Technology Inc., Wind2Share, and Zimmerman Advertising.