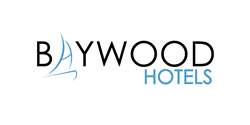 (PRWEB) April 19, 2017
Baywood Hotels, a hotel management company headquartered in Greenbelt, Maryland, launched its national "Miracle in a Bottle" fundraiser across over 80 hotels in the Mid-Atlantic, Florida, New York and Texas regions to help the nationally known Children's Miracle Network Hospitals. The bottled water fundraiser was launched as part of Baywood Hotels' community initiative Baywood Education and Reach Initiative (BEAR).
Formally launched in December 2015, Miracle in a Bottle is Baywood Hotels' first company-wide fundraising effort, as each of its hotels also performs charity work in the local community. BEAR-branded bottled water is currently and exclusively sold in the company's hotels' on-site markets and at the front desk to guests, clients and staff for a mere $2 per bottle. All profits, averaging $1 per bottle sold, will be donated to hotels' local Children's Miracle Network Hospitals locations. In March 2017, over 17,000 bottles of water were sold, raising an additional $17,685 for donations for a combined total of over $60,000 since program launch.
"Baywood Hotels is proud to see this initiative take off nationwide at our hotels," said Chief Operating Officer Rick Fenstemaker. "We have had staff that has had personal experiences with CMN and we truly see the value as an organization."
For more information about Baywood Hotels' Miracle in a Bottle fundraiser or other BEAR initatives, contact Rick Fenstemaker at 301-389-3836 or visit http://www.baywoodhotels.com/community/
###
About Baywood Hotels
Established in 1975, Baywood Hotels, Inc. is a fast-growing and privately-owned hospitality management company operating $1 billion in assets and employing over 1,800 associates nationwide. The company is headquartered in Greenbelt, MD, and has regional offices in Aurora, CO; Herndon, VA; Miami; Pittsford, NY and San Antonio. In each of its regions, the private hotel ownership company is consistently recognized as an innovative leader in the hotel industry, focusing on product concept and development and the outstanding management of its assets. The focused vision, strong values and aggressive long-range strategy of Baywood Hotels have helped the company develop reputable and well-branded hotels in areas where Baywood has competitive expertise and partnerships. Baywood Hotels' portfolio includes well-known brands, such as Marriott, Hilton and InterContinental Hotels Group, as well as several independent brands. Visit the Baywood Hotels website or find us on Twitter or Facebook.
About Children's Miracle Network Hospitals
Children's Miracle Network Hospitals® raises funds and awareness for 170 member hospitals that provide 32 million treatments each year to kids across the U.S. and Canada. Donations stay local to fund critical treatments and healthcare services, pediatric medical equipment and charitable care. Since 1983, Children's Miracle Network Hospitals has raised more than $5 billion, most of it $1 at a time through the charity's Miracle Balloon icon. Its various fundraising partners and programs support the nonprofit's mission to save and improve the lives of as many children as possible. Find out why children's hospitals need community support, identify your member hospital and learn how you can Put Your Money Where the Miracles Are, at CMNHospitals.org and facebook.com/CMNHospitals.