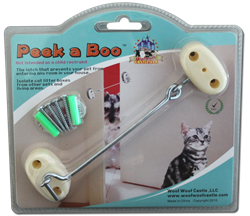 Lewisberry, PA (PRWEB) April 11, 2017
The birth of this product relates to a simple but heartwarming story, one that many pet owners may have dealt with or are certainly concerned about. The owner of Woof Woof Castle LLC, Peggy Sue Souter, runs a business taking care of other peoples pets. Fortunately, the story doesn't involve those pets, but two of her pets. One day, the dog got into the cats litter box and starting consuming the cat's waste. The next day the dog became very ill but luckily survived. Peggy Sue decided she needed to come up with a solution of preventing this in the future. There are other products on the market but are expensive, some in the hundreds of dollars. That's when she came up with the simple idea of finding a way to prevent her dog from entering into the cat's room. Peek a Boo Pet Latch was born.
When mounted properly per the instructional CD and hardware included, this unit is designed to simply keep the door open wide enough to allow the cat through, but not the dog or other larger animals. If your dog happens to be smaller than the cat, the company suggests contacting them directly, through their website, for some ideas in this situation. Once installed, the only thing left for the pets to do, is play "peek-a-boo".
Litterboy Pet Products is located in the beautiful state of Washington. There business has been active and thriving since 1998. When Greg and Steve noticed that the market didn't have many cat products at a fair price, they decided to launch their website sales at http://www.litterboy.com. The products are all new and not manufactured or refurbished seconds.