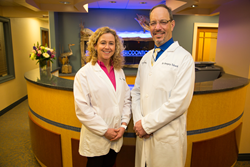 Westerly, RI (PRWEB) April 04, 2017
People who suffer from dental fear can now visit Drs. Gregory Toback and Marianne Urbanski, who are accepting new patients with or without referrals for sedation dentistry in Westerly, RI. Drs. Toback and Urbanski offer multiple sedation treatments at their practice, Shoreline Periodontics, to minimize pain and anxiety during dental procedures. This ensures that their patients can remain relaxed while receiving care ranging from routine periodontal maintenance to dental implants.
Research suggests that more than one in ten Americans suffer from dental fear. This condition may develop due to past traumatic experiences, problems such as a severe gag reflex and feelings of embarrassment over personal oral health. Unfortunately, dental anxiety may prevent many suffers from receiving preventive or corrective care, which may lead to serious oral health problems in the future. To avoid this outcome and help patients look forward to each dental appointment, Drs. Toback and Urbanski offer calming sedation dentistry in Westerly, RI, during various procedures, including gum disease treatment and dental implant surgery.
Drs. Toback and Urbanski strive to offer a relaxing environment to even the most extreme cases of dental fear by offering IV conscious sedation. Dr. Toback is the only periodontist in eastern Connecticut who is licensed and certified to provide this treatment, which allows patients to remain awake but strongly sedated throughout a dental procedure. IV conscious sedation takes effect quickly and leaves patients with little memory of the procedure. In addition to this treatment, the doctors also offer local anesthesia for people who experience milder dental anxiety.
People who live with dental fear and believe they could benefit from sedation dentistry in Westerly, RI, are urged to visit the website of Shoreline Periodontics at http://www.shorelineperio.com for further information. To arrange consultations, patients may use the online contact form or directly call the office at 401-596-0000.
About the Practice
Shoreline Periodontics is a periodontal practice offering personalized dental care for patients since 1998 and is located in New London, CT and Westerly, RI. Leading periodontist, Dr. Gregory A. Toback, received his B.A. from St. John's University and his Doctorate of Dental Medicine from the University of Connecticut. He also received advanced training in periodontics and dental implants at the University of Texas Health Science Center in San Antonio. Dr. Toback focuses on minimally invasive surgeries, offering the LANAP® protocol and belongs to a small group of dental professionals currently providing the Chao Pinhole Surgical Technique™ for treatment of gum recession. Dr. Marianne Urbanski has been voted one of Connecticut's top dentists for more than seven years by Connecticut Magazine. Dr. Urbanski graduated cum laude from the College of Holy Cross in Worcester, Massachusetts where she earned a Bachelors' degree in Biology. She also received her Doctor of Dental Medicine degree and her Masters' of Dental Science degree from the University of Connecticut Dental School. Dr. Urbanski prides herself on offering caring, professional care to each patient. To learn more about Shoreline Periodontics and their dental services visit their website at http://www.shorelineperio.com or call 860-443-2428 for the New London, CT location, or 401-596-0000 for the Westerly, RI office.