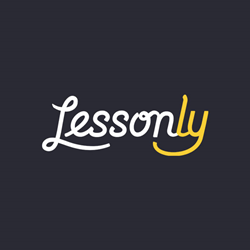 Following a record quarter in Q1, we are better positioned than ever to help leaders all over the world translate important work knowledge into productivity Lessons that have real business impact. — Max Yoder, Lessonly CEO
Indianapolis, Indiana (PRWEB) April 04, 2017
Lessonly, the global leader in team learning software, announced today that the business set multiple records in the first quarter of 2017, recording the largest single sales day and largest quarter in the company's history. These results, and the continued global adoption of Lessonly's team learning software, point to increasing business relevance for quickly-created, easily-accessed, measurable knowledge solutions. On the heels of its recently-launched Salesforce Sales Cloud integration and Google Chrome extension, Lessonly aims to bring in-the-moment learning to more learners in companies around the world.
"This quarter was truly special—I couldn't be more excited for this team and company," said Lessonly CEO Max Yoder. "Following a record quarter in Q1, and having added 40 new faces to the team in 2016, we are better positioned than ever to help leaders all over the world translate important work knowledge into productivity Lessons that have real business impact."
Lessonly has earned recognition for its rapid growth, company culture, and customer satisfaction, and ongoing growth continues at Lessonly. Currently, the four-year-old software company seeks experienced account executives to join its team, with additional current openings highlighted on its Careers page.
About Lessonly
Lessonly is modern learning software used by more than 525,000 learners at more than 350 companies to translate important work knowledge into Lessons that accelerate productivity. Sales teams across the world use Lessonly to reinforce best practices, accelerate rep performance, and close more deals. Support teams across the world use Lessonly to serve customers faster, drive consistent support, and elevate the customer experience. Follow Lessonly on Twitter at twitter.com/lessonly.
Learn more at Lessonly.com.
Follow us on Twitter at @Lessonly and like us on Facebook at facebook.com/lessonlyapp.