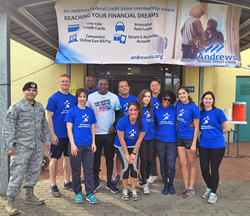 Suitland, Maryland (PRWEB) April 05, 2017
Andrews Federal Credit Union sponsored Geilenkirchen Airman Family Readiness Center's 5K Color Run/Walk to promote Comprehensive Airman Fitness (CAF).
The event kicked off the 360° Transformation Challenge. The Challenge runs from April 3 – May 29. During the 8-week challenge, multiple workshops will be held throughout Geilenkirchen AFB to educate attendees about nutrition and fitness.
"We are always excited to support our military community," said James Niba, Schinnen Branch Manager. "It was great to see so many participate for such a worthy cause."
About Comprehensive Airman Fitness
CAF is a strength-based approach that emphasizes what fit people/organizations do to foster balanced fitness and teaches adaptive skills that promote comprehensive fitness and optimal performance.
About Andrews Federal Credit Union
Andrews Federal Credit Union was founded in 1948 to serve the needs of military and civilian personnel by providing a vast array of financial products and services. With over $1.5 billion in assets, Andrews Federal has grown to serve more than 120,000 members in the District of Columbia, Joint Base Andrews (MD), Springfield, Virginia (VA), Joint Base McGuire-Dix-Lakehurst (NJ), and military installations in central Germany, Belgium, and the Netherlands. In addition, the Credit Union serves as a financial partner with many select employee groups in Maryland, the District of Columbia, Virginia and New Jersey.
To learn more about Andrews Federal Credit Union and its community involvement, or to become a member, call 800.487.5500 or visit http://www.andrewsfcu.org.