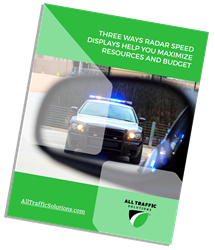 Herndon, VA (PRWEB) April 06, 2017
All Traffic Solutions, the leader in cloud-based traffic management solutions for law enforcement, transportation and smart cities, has released a white paper, Three Ways Radar Displays Help You Maximize Resources and Budget. As law enforcement continues to stretch resources and budgets, they must look for innovative ways to manage successful traffic calming and safety initiatives.
This paper discusses different ways that law enforcement can use radar speed displays to achieve and sustain improved traffic safety in communities, the importance of utilizing ongoing data and analytics for improved traffic calming and safety, and why together they are two of the most effective, practical and cost-efficient traffic calming tools available.
Also covered is how to:

Go undercover to record driver speeds using web-enabled radar speed displays
Free up resources by having radar signs do more work
Conduct mini traffic studies without taking officers out of the field
Clear citizen complaints
Three Ways Radar Displays Help You Maximize Resources and Budget white paper is available now as a free download.
To learn more about TraffiCloudTM, All Traffic Solutions' cloud-based ecosystem that allows users to remotely manage traffic and parking devices as well as data from anywhere, go to http://www.alltrafficsolutions.com/solutions/trafficloud.
Located outside Washington D.C. in Herndon, Virginia, All Traffic Solutions is consistently recognized as a leading innovator in the traffic safety industry for radar speed and variable message displays, imaging products and intelligent transportation systems, delivering groundbreaking levels of service and product capability. By integrating cloud technology into all of its products, All Traffic Solutions allows customers to manage all their equipment and data remotely through a browser, resulting in better traffic safety outcomes and initiatives related to vehicle-to-infrastructure solutions and smart cities. For more information, visit http://www.AllTrafficSolutions.com.