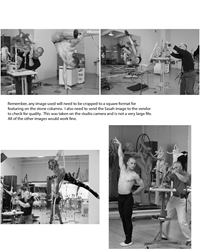 "MacDonald is one of those rare artists who can feel the body in motion from the inside out." Tom Wolfe
Monterey, CA (PRWEB) April 11, 2017
The Monterey base company is home to the world reknowned sculpture artist, Richard MacDonald. He is best known for his Flair Across America for the US Olympics in 1996 and the 100th US Open at Pebble Beach in 2000. He is also known for his commissioned work for the Royal Ballet. With studios in London, Monterey and Las Vegas, the art that has been created by the worlds leading figurative sculpture artist is also a philanthropist supporting many charities such as the Boys and Girls Club, abused children, ballet scholarships in Monterey and Carmel, CA as well as the dancers of the Royal Ballet. He also devotes his personal time to teach and lecture students on art.
Most recently, the company has uncovered a series of alleged fraudulant activities and embezzlement schemes by the former Chief Operating Officer, Julia Cominos. Cominos is currently under criminal investigation by the Monterey police department and the District Attorney. According to court documents, 14 actions have been filed and validated to move forward by the presiding judge in the civil action case against the former Chief Operating Officer, Julia Cominos. The alleged embezzlement that took place from 2009-2015 has resulted in millions of dollars that were taken from Richard MacDonald studios, Cirque de Soliel, the Royal Ballet scholarship fund and Joie de Vie, LLC.
As the investigation continues to unfold, it has been alleged that various schemes were used to extract millions of dollars from Richard MacDonald's companies. Court documents show schemes ranging from fraudulant expense reports and petty cash. Sales orders were allegedly misrepresented to inflate revenue reporting to Cirque de Soliel, to using company funds for personal covert investments, to paying key company accounting and shipping staff from Ms. Cominos personal account. The forensic evidence has also identified over 90 bank accounts and 30 credit cards that were opened. The court documents show the funds were allegedly sent to investments in the Caymen Islands, Luxembourg and Ms. Cominos trust account at The Law Offices of Ted Cominos, Sr.
Ted Cominos, Sr., was deposed today.
Case #16CV000320 is currently under review with Judge Thomas Wills of Monterey County along with the District Attorneys office in Monterey, CA.