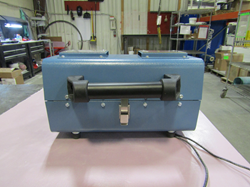 Riverside, MI (PRWEB) April 06, 2017
Lindberg/MPH announced the shipment of a 1200°C Tube Furnace for a laboratory application.
The "Mini-Mite" furnace has a wide temperature range of 500°C to 1200°C. The chamber dimensions are 1" Wide and 12" Long. The furnace includes a mild steel hinged shell design to allow for ease of use. Vacuum formed ceramic fiber insulation with embedded heating elements, are used for quick heat up and low heat storage. This unit is available in either 120V or 240V rated at 960 watts. The small footprint makes this unit ideal for bench top use. It can also be mounted horizontally or vertically.
Unique features of this Lindberg/MPH oven include:

1200°C Split Hinge Design Tube Furnace without base
1" diameter. 12" long heated chamber
Vacuum formed ceramic fiber insulation
Single zone helically coiled Fe Cr Al alloy-heating elements are retained by refractory shapes
Estimated shipping weight is 25 lbs.
The furnace does not include an integral control system
This tube furnace was completely factory assembled, pre-wired, piped and tested prior to shipment. All Lindberg/MPH equipment comes with an exclusive 3-year warranty, which covers all materials for all components (less wear items).
About Lindberg/MPH
Lindberg/MPH is a leading manufacturer of standard and custom industrial heat treat furnaces, including pit, box, IQ, and belt type for the ferrous and non-ferrous markets. Lindberg/MPH customers cover a wide range of industries including aerospace/military, automotive, commercial heat treating, energy/oil, electronics and the forging markets. Founded in 1917, the company has more than 75,000 industrial furnace installations worldwide and their equipment is backed by a full range of customer support services and the most extensive replacement parts inventory in the industry. Lindberg/MPH is a proven leader in the thermal processing industry, with a long track record of proven policies and management practices.
Lindberg/MPH is owned by Thermal Product Solutions ("TPS"), a leading American manufacturer of custom industrial ovens used for heat treating, finishing, drying, curing, manufacturing automation and process control. TPS is a global leader in thermal processing products and test solutions with brands including Baker Furnace, BlueM, Gruenberg, Tenney, Lindberg, MPH, and Wisconsin Oven. For more information on equipment solutions from TPS visit the website at http://www.thermalproductsolutions.com. #225216