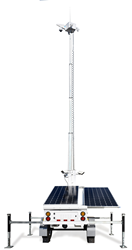 ParSecurity is the first to offer a complete turnkey security solution, packaged into a portable platform and priced below $25,000.
GOLDEN VALLEY, MN (PRWEB) April 05, 2017
ParSecurity, a provider of custom commercial security solutions, announced today the launch of its new HighView Mobile Security System that makes securing remote or temporary locations easy and affordable.
Equipment and material theft combined with employee injuries can cost companies millions of dollars each year. Construction and mining companies, for example, are exposed to theft and vandalism because their work sites are remote or unoccupied during off-hours.
The security industry has historically struggled with delivering a complete mobile solution. Most available products are simply trailer-mounted video cameras such as those used by the military and police. Most can operate only short periods due to power limitations. When other features are added, these security systems can cost as much as $50,000 making them unaffordable for the typical business.
ParSecurity is the first to offer a complete turnkey security solution, packaged into a portable platform and priced below $25,000. Customers can deploy the system on their site, power it on, and immediately get the benefits of a fully-functional commercial security solution including intruder detection, video surveillance, audio broadcast, and central station monitoring services.
"Our years of experience delivering custom commercial security products and services prepared us to pioneer a complete, self-contained security solution," said Lee Stagni, ParSecurity Vice President and General Manager.
Stagni explained that two attributes of their system make it unique in the industry. First is that the system includes everything needed to deliver site security. The other is the system's proprietary electrical management design. "Our system is engineered for months of unattended operation because our battery power consumption is lower than the system's solar battery-recharging capability. We have also integrated a back-up gas generator in the unlikely event that the electrical system needs supplemental charging."
The HighView system components are integrated into a rugged trailer with a powered mast that extends to a maximum height of 30 feet. Four high-resolution video cameras are mounted atop the mast, providing a panoramic view of the site. State-of-the-art motion detectors sense intruder presence during off-hours, sending alarms to a central monitoring station where dispatchers view live video feeds for intruder verification and police dispatch.
Real-time video is securely broadcast over the Verizon 4GLTE network and can be accessed using Smartphones or personal computers. The remote access app is used to control cameras (pan, tilt, zoom) and to playback or capture/download recorded video.
The company's initial focus will be on construction companies in the upper Midwest, expanding nationwide over the next year.
"The HighView system is an ideal solution for us to keep track of our many active projects located across the country. We can tap into the system's live video stream anytime, from anywhere. Plus, it helps protect our onsite equipment, materials and people," said Brian Raney, Sr. Project Manager Big-D Construction Midwest.
ParSecurity is seeking distribution and service partners who would sell, support and rent the HighView system in their local market.
"We see a huge market opportunity for system rental," remarked Stagni. "Given the current state of our country's exposure to the threat of bad actors, deploying a security system at outdoor events that attract large crowds is an ideal use of our system."
About ParSecurity
ParSecurity has provided commercial security products and services since 2003. We design each security solution to match customer-specific requirements; use only commercial-grade equipment, and offer remote access (smartphone) technologies. Our national central station monitoring service providers ensures that our customer's property is secured.
For more information please contact Lee Stagni, ParSecurity Vice President and General Manager at 763.571.4816 or via email lee.s(at)parsat.com.