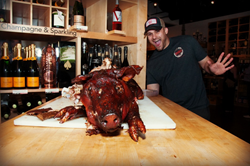 No festival addresses BBQ and Wine better
Atlanta, Ga. (PRWEB) April 06, 2017
Vino Venue, Atlanta's one of a kind wine & dine emporium, continues its signature Discover festival series with "Cork 'n Pork" on Sunday, May 7th, 3:00pm – 5:30pm. Chef Jordan Wakefield of Smoke Ring joins with Chef Patric Good of Vino Venue, each bringing a unique contribution to this culinary partnership. For this walk-around tasting, Chef Wakefield will be producing "Georgia-Style BBQ" for which he has become famous, with classics like smoked whole hog, baby-back ribs, brisket, smoked chicken, ton's of pulled pork, and an array of sauces and side items. Vino Venue and Chef Patric will be delivering on the bbq-friendly wines, craft beers, and additional sides including the build-your-own tater-tot station. Spring is the perfect time to host an indoor/outdoor event, allowing guests to have outdoor access to Vino Venue for beverages with tastes around Smoke Ring's impressive mobile BBQ smoker.
Taking into consideration the types of smoke meats, and the array of sauces from Chef Wakefield, Vino Venue will be curating a careful selection of wines for specific pairing, as well as catering to the beer enthusiasts too. All in all guests should expect 50-100 beverages for sampling on this Spring day. And like all Discover events guests will get immediate gratification by taking home their favorite beverages via retail sale that day.
"The 'Discover' series has traditionally featured cuisine and complementing wine varieties from the world's most distinguished wine regions," said Michael Bryan, founder of Atlanta Wine School and Vino Venue managing partner. "Following a number of successful 'Discover' events going back to 2003, Cork 'n Pork will take a local heirloom—our own style of "Georgia BBQ"—and pair it up thoughtfully with a global selection of wines and local beer selections."
General admission tickets are $69 and include unlimited tastings of cuisine and beverages. Early-bird savings may be available. Purchase tickets online at VinoVenue.com, by visiting Vino Venue or by calling 770-668-0435.
For more information on group rates, please contact Lizette Leanza at lizette(at)vino-venue.com
About Vino Venue
Located conveniently on I-285, Vino Venue is a one-of-a kind wine and dine emporium offering guests a unique, complete culinary experience. With over 50 wines available by the glass, a respectable craft beer selection, and bistro-style cuisine designed for sharing, Vino Venue is just the place to discover the art and science of food and wine. Vino Venue is also home to a $100,000 chef demonstration kitchen furthering Vino Venue's fundamental priority: experiencing the ever-expanding world of food & wine. For more information, visit http://www.vinovenue.com or connect with us on Facebook at https://www.facebook.com/vino.venue.is.wine
About Smoke Ring
Owner and Executive chef Jordan Wakefield is a devoted fan of barbeque and Southern cuisine. Establishing an authentic creation of Georgia-style barbeque, Smoke Ring offers a unique take on typical barbeque dishes. For more information, visit http://www.smokeringatlanta.com.