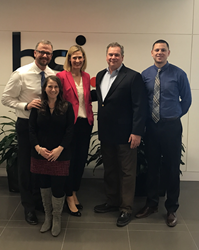 building trust with our customers
Reston, VA (PRWEB) April 06, 2017
Worldgate, LLC announced that it has successfully transitioned from the ISO 9001:2008 standard to the ISO 9001:2015 Quality Management System standard.
Worldgate uses ISO 9001 as a framework for demonstrating that the company follows proven best practices for consistent and reliable service, while driving continual improvement across the business. Their quality management system has been independently verified for effectiveness by BSI, a 3rd party certification body.
"We made the decision at Worldgate to invest in the transition to the ISO 9001:2015 standard to demonstrate our continued commitment to quality to our clients, partners and employees," said Katelyn Montgomery, Worldgate President.
"Knowing that Worldgate operates under an ISO Certified quality management system has been a great way to build trust up front with our customers and offers us a competitive advantage," said Scott Montgomery, Worldgate's Managing Partner.
Worldgate partnered with BSI, using their online learning tools and auditing expertise to understand the new requirements and successfully transition. Worldgate is able to verify the benefits they receive through the continual measurement of their financial and employee retention goals.
"We transitioned to ISO 9001:2015 standard as soon as we could because we knew it would benefit our organization," stated Scott. "The new version of ISO 9001 has been referred to as a "game changer." It brings the process approach and quality right into the heart of any organization. ISO 9001:2015 is part of Worldgate's business strategy and helps us drive performance."  
"Worldgate is to be congratulated for their early transition to the 2015 version of ISO 9001 and are among the first 10% of our customers to successfully make the transition, achieving certification in their first audit attempt. Clearly ISO 9001 is woven into Worldgate's DNA," says Todd VanderVen, President, BSI Americas.
At the heart of its business, Worldgate works towards ensuring quality services and keeping customers satisfied. ISO 9001:2015 provides the proven methodology to help maintain customer focus, while allowing for transparency and maneuverability.
About BSI
BSI (British Standards Institution) equips businesses with the necessary solutions to turn standards of best practice into habits of excellence. From training and assessment to software solutions, advisory services and supply chain intelligence, BSI provides the full solution to help organizations drive performance. For organizations large and small, BSI enables resilience by embedding excellence to create relevant, safer and more secure products/services leveraging the passon and expertise of our people. Renowned for its marks of excellence, BSI's influence spans multiple sectors with a particular focus on Aerospace, Automotive, Built Environment, Food, Healthcare and IT. With 80,000 clients in 182 countries, BSI is an organization whose products and services inspire excellence across the globe. To learn more, please visit http://www.bsigroup.com/en-US.
About Worldgate
Worldgate is a management and technology consulting firm specializing in solutions designed to help enable our clients to meet and exceed their information technology goals. Worldgate's services focus on ERP and data management solutions which support the business side of Information Technology in the education and public sector. For more information on Worldgate, please visit http://www.worldgatellc.com.
For more information:
info(at)worldgatellc(dot)com