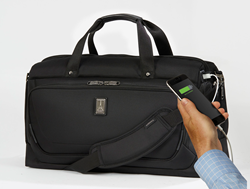 BOCA RATON, FL (PRWEB) April 05, 2017
Travelpro®, the inventor of The Original Rollaboard® luggage and a pioneer in innovative luggage design, today, unveiled the addition of 17 new, on-trend colors and five new silhouettes to its line of hard and softside luggage collections at the 2017 Travel Goods Association (TGA) Show in Las Vegas. The collection updates, designed by Travelpro's in-house design team, pull inspiration from the latest color and travel trends, offering consumers quality, style and convenience to meet their individual travel needs. The updates will be available across Travelpro's Maxlite® 4, Crew™ 11 and Platinum® Magna™ 2 collections.
"At Travelpro we're continuously working to offer consumers a better travel experience with products designed to provide style without compromise," said Ofelia Silva, Executive Vice President of Marketing at Travelpro. "We understand the ever-evolving needs of travelers today and the introduction of new colors and product silhouettes is an example of our continued drive to innovate."
Maxlite 4
The Maxlite 4 Softside Collection, known for being ultra-light and durable by today's frequent leisure travelers, will now include a Rolling UnderSeat Carry-On and Carry-On Rolling Duffel. The Rolling UnderSeat Carry-On is designed to fit under most major domestic airline seats and features a padded laptop/tablet sleeve to provide extra protection for electronics. A variety of organizational compartments make travel necessities easy to find, with room to spare for handbag storage inside. Perfect for weekend getaways, the Carry-On Rolling Duffel features a lightweight and roomy design. The duffel can be carried with the adjustable shoulder strap or wheeled like a traditional Rollaboard for added convenience.
New colors for the Maxlite 4 Softside Collection include: Slate Green, Nightshadow Blue, and Magenta Pink. The Maxlite 4 Hardside Collection new fashions include: Jasper Green and Nightshadow Blue.
Crew 11
Travelpro's flagship Crew 11 collection, designed for business professionals, will now be available with a Compact Carry-on Smart Duffel with Suiter. Ideal for short business trips, the duffel features a slim and compact design, with an integrated suiter system to reduce clothing wrinkles. A padded tablet sleeve offers protection, while an external USB port and integrated battery pouch provide access to power on-the-go.
New colors for the Crew 11 Softside include: Mahogany Brown, Patriot Blue, Bronze Green, Crimson Red and Dusk Blue. The Crew 11 Hardside Collection new colors include: Mahogany Brown, Obsidian Black, Carbon Grey and Crimson Red.
Platinum Magna 2
Crafted with superior fabrics and genuine leather accents for the stylish business traveler, the Platinum Magna 2 Collection will now include a Bi-Fold Hanging Garment Bag and Carry-On Rolling Duffel. The lightweight, upscale Bi-Fold Hanging Garment Bag stores two to three outfits, with an extension panel to accommodate longer clothing articles. Plus, the garment bag can be hung for easy access to the contents. The Carry-On Rolling Duffel features a padded laptop/tablet sleeve for electronic essential storage and a variety of organizational packing options inside and out. Providing flexibility for the frequent traveler, the duffel can be carried with the adjustable shoulder strap or wheeled like a traditional Rollaboard.
New colors for the Platinum Magna 2 include: Charcoal Grey, Marsala Red and Hunter Green.
About Travelpro
For over 25 years, Travelpro has prided itself on design innovation and durability in crafting the highest quality luggage for travelers worldwide. Since transforming the ease of modern day travel with The Original Rollaboard® wheeled luggage, Travelpro® has been the brand of choice for flight crews and frequent travelers on every continent. The company is dedicated to building a lifelong relationship with its customers by consistently meeting and exceeding their expectations.
Among other honors received, in 2015 The Wirecutter, a cutting-edge source known for promoting the 'best gadgets and gear for people in the know' tested 31 bags over the last three years and determined that the Travelpro® Platinum® Magna™ 2 22" Expandable Rollaboard® Suiter is the best carry-on bag on the market. The Travelpro® Crew™ 10 22" Expandable Rollaboard® Suiter received the 2nd place award.
Please visit Travelpro at http://www.travelpro.com for a full list of the latest products and retail locations. Follow us on Facebook at https://www.facebook.com/travelproproducts; Twitter at https://twitter.com/travelprointl; our blogs at http://travelproluggageblog.com/; Pinterest at https://www.pinterest.com/travelprointl/; and Instagram at https://www.instagram.com/travelprointl/.