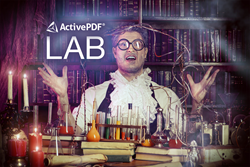 ActivePDF LAB was developed in response to our customers' request to provide early access to technology emerging from our R&D.
(PRWEB) April 06, 2017
ActivePDF, the leader in PDF creation, conversion and manipulation tools for Windows announced the introduction of the ActivePDF Lab website, http://www.CoolPDFStuff.com, where developers and end-users alike can gain early access to PDF technologies emerging from ActivePDF's R&D department. The ActivePDF Lab offers developer components, desktop applications and command line tools, all of which are free to use. A knowledge base, sample code and forum are offered for sharing ideas with other users and the ability to have open discussions with ActivePDF's technology experts.
"CoolPDFStuff.com was developed primarily in response to our customers' requests to provide early access to technology emerging from our R&D department," says ActivePDF CEO Tim Sullivan. "In addition, we've noted a shortcoming in the market for simple, intuitive end-user applications that perform particular PDF tasks such as converting PDFs to images or printing batches of PDFs, so it was a natural progression to include those as well. Filling these gaps is what we mean when we say 'It's Everybody's PDF'."
Availability
The ActivePDF Lab is available immediately and can be accessed at http://www.CoolPDFStuff.com or through the main ActivePDF website, http://www.ActivePDF.com under "Support." All products are free and may be used for non-commercial use.
About ActivePDF
Founded in 2000, ActivePDF, Inc. is privately held and is a global provider of PDF tools for integration within virtually any business process, including Enterprise Content Management (ECM), Document Management, and Workflow solutions. The ActivePDF suite is designed to streamline large volumes of rendering and assembly of content into accurate, secure and accessible PDFs. We serve over 25,000 customers from 90 countries in numerous industries including: Healthcare, Financial, Education, Manufacturing, Utilities, Engineering, Legal and Government. For more company information, visit ActivePDF at https://www.ActivePDF.com.
###
ActivePDF is a registered trademark of ActivePDF. All other trademarks are property of their respective owners.