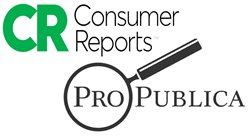 The impact of discriminatory insurance prices can have a devastating ripple effect, draining family budgets, limiting employment opportunities, and holding back entire communities from growth.
Yonkers, NY (PRWEB) April 05, 2017
Drivers living in predominantly minority urban neighborhoods are charged higher automobile insurance premiums on average than drivers with similar safety records in non-minority neighborhoods with comparable levels of risk, according to a new analysis by ProPublica and Consumer Reports.
In some cases, insurers such as Allstate, Geico, and Liberty Mutual charged premiums that were on average 30 percent higher in minority zip codes than in comparable non-minority neighborhoods.
The analysis looked at premium quotes for liability insurance – the combination of bodily injury and property damage coverage that drivers must purchase in each of the states examined. These liability premiums were compared to average payouts made by insurers for every zip code in four states--California, Texas, Missouri, and Illinois. The full analysis is available by visiting Consumer Reports online at http://www.CR.org/carinsuranceinvestigation.
Insurers have long defended their pricing by saying that the risk of accidents is greater in those neighborhoods, even for motorists that have never had one. But ProPublica and Consumer Reports' first-of-its kind analysis found that many of the disparities in auto insurance prices between minority and non-minority neighborhoods are wider than can be explained by average risk.
"Our findings document what some consumer advocates have long suspected: Despite laws in almost every state banning discriminatory rate setting, many auto insurers charge premiums in minority neighborhoods that exceed not only prices in white areas but also the levels justified by average payouts on claims," according to the report by Julia Angwin, Jeff Larson, Lauren Kirchner and Surya Mattu. "This over-pricing may amount to a subtler form of redlining, a term that traditionally refers to denial of services or products to minority areas."
"The impact of discriminatory insurance prices can have a devastating ripple effect, draining family budgets, limiting employment opportunities, and holding back entire communities from growth," said Marta L. Tellado, President and CEO of Consumer Reports. "Whether price disparities arise from bad actors or bad algorithms, the consequences are the same, and CR is committed to ensuring transparency and fairness in pricing for people in all neighborhoods."
ProPublica filed public records requests in all 50 states and the District of Columbia seeking zip-code level data about liability claims payouts. Only California, Illinois, Missouri, and Texas said they collected the data and provided it. These states represent the range of government oversight of the insurance industry in the U.S., with California being the most highly regulated insurance market and Illinois one of the least regulated.
In addition, many of the insurers that were found to be overcharging minority neighborhoods in these states operate nationally. That raises the prospect that many minority neighborhoods across the country may be paying too much for auto insurance.
In each state, Consumer Reports and ProPublica found a significant gap between the premiums charged in minority and non-minority neighborhoods with the same risk:

In Illinois, 33 of the 34 companies analyzed charged average rates that were at least 10 percent higher for the same safe driver in minority zip codes than in comparably risky non-minority zip codes. Six Illinois insurers, including Allstate, which is the second largest insurer in the state, had average disparities higher than 30 percent.
In Missouri and Texas, at least half of the companies evaluated were charging higher rates on average for the same safe driver in high-risk minority communities than in other comparably risky communities.
Even in highly regulated California, eight companies were charging minority zip codes more than 10 percent higher premiums on average than similarly risky non-minority zip codes.
While in Illinois the disparities remained about the same from the safest to the most dangerous zip codes, in the other three states the disparities were confined to the riskiest neighborhoods. In those instances, prices in whiter neighborhoods stayed about the same as risk increased, while premiums in minority neighborhoods went up.
Overall, households in predominantly minority zip codes spent more than twice as much of their household income on auto insurance (11 percent), compared with households in majority white neighborhoods (five percent), based on U.S. Census data and the ProPublica/CR analysis. The U.S. Treasury Department has defined auto insurance as affordable if it cost less than two percent of household income.
The nonprofit organizations Consumer Reports and ProPublica have partnered to produce this special report on car insurance and pricing in minority communities. The story was written and reported by ProPublica with Consumer Reports' collaboration. The two institutions operate independently. Any policy positions that Consumer Reports may take in the marketplace do not reflect the views of ProPublica, which does not take advocacy positions.
A separate 2015 Consumer Reports analysis found that credit histories may have more to do with how much consumers pay for auto insurance than any other factor, including arrests for drunken driving. Consumers Union, the policy and mobilization division of Consumer Reports, has long opposed the use of non-driving factors for setting auto insurance rates because of the discriminatory impact they can have on premiums. Instead, Consumers Union has urged state insurance commissioners to require insurers to base their rates primarily on a policyholder's driving record, miles driven, and years of driving experience.
About Consumer Reports
Consumer Reports is an independent, nonprofit organization that works side by side with consumers to create a fairer, safer, and healthier world. For 80 years, CR has provided evidence-based product testing and ratings, rigorous research, hard-hitting investigative journalism, public education, and steadfast policy action on behalf of consumers' interests. Unconstrained by advertising or other commercial influences, CR has exposed landmark public health and safety issues and strives to be a catalyst for pro-consumer changes in the marketplace. From championing responsible auto safety standards, to winning food and water protections, to enhancing healthcare quality, to fighting back against predatory lenders in the financial markets, Consumer Reports has always been on the front lines, raising the voices of consumers.
About ProPublica
ProPublica is an independent, nonprofit newsroom that produces investigative journalism in the public interest. In 2010, it was the first online news organization to win a Pulitzer Prize. In 2011, ProPublica won its second Pulitzer, the first ever awarded to a body of work that did not appear in print, and in 2016 the newsroom won a third Pulitzer. In 2014, ProPublica won a MacArthur Award for Creative and Effective Leadership. ProPublica is supported primarily by philanthropy and offers its articles for republication, both through its website and directly to leading news organizations selected for maximum impact.
__________
© 2017 Consumer Reports. The material above is intended for legitimate news entities only; it may not be used for advertising or promotional purposes. Consumer Reports® is an expert, independent, nonprofit organization whose mission is to work side by side with consumers to create a fairer, safer, and healthier world. We accept no advertising and pay for all the products we test. We are not beholden to any commercial interest. Our income is derived from the sale of Consumer Reports® magazine, ConsumerReports.org® and our other publications and information products, services, fees, and noncommercial contributions and grants. Our Ratings and reports are intended solely for the use of our readers. Neither the Ratings nor the reports may be used in advertising or for any other commercial purpose without our prior written permission. Consumer Reports will take all steps open to it to prevent unauthorized commercial use of its content and trademarks.