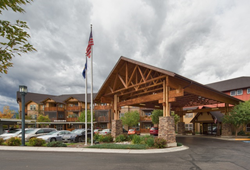 Context gives our minds clues as to the activities that should occur in a given space
Missoula, Montana (PRWEB) April 06, 2017
A philosophy of engaging all the senses and focusing on residents as individuals is driving reconstruction at The Springs at Missoula. Footsteps® Memory Care is The Springs Living's thoughtful, comforting approach to caring for seniors with memory challenges.
Familiar, evocative settings will be added as part of the renovation. Spaces such as a beauty salon, chapel, and park; and a "House within a House" with a living room and laundry room are familiar and calming. "Context gives our minds clues as to the activities that should occur in a given space," said Brenda Connelly, RN and director of community operations for The Springs Living.
This approach is reinventing memory care in Montana. "This familiarity can lead to a sense of clarity, comfort and calm for our residents with memory challenges," added Connelly.
Connelly, a long-time resident of Montana, explained how the "House within a House" concept includes architectural and design elements carefully chosen to deliver these contextual cues. "For example, a quiet sitting area with a rocking chair and couch beckons 'It's ok to sit here and relax.' Planting seeds and flowers in the potting shed will stimulate memories of gardening and encourage a sense of calm and peacefulness."
Delicious smells from an open, finishing kitchen within Footsteps Memory Care will infuse the residents' homes—offering a comfortable atmosphere and improving appetites. Fresh, seasonal ingredients and made-from-scratch appetizing and nutritious cooking will dominate the menus, following The Springs' "Art of Delicious" food principles.
Local Missoula general contractor, Maurer Construction, has started construction and estimates completion in late June, 2017. Maurer Construction originally oversaw construction of The Springs at Missoula in 2003 and a memory care addition for The Springs at Whitefish in 2011.
The Springs at Missoula is located at 3710 American Way, Missoula, MT 59808, (406) 273-0101.
The Springs Living is a senior housing company headquartered in Oregon. Founded in 1996, the company has 11 retirement communities in Oregon and four in Montana. The Springs Living is building a reputation for helping people experience senior living differently.