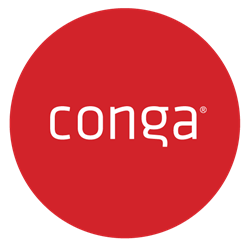 The new features in the April release help businesses further benefit from the cost savings, increased efficiency and enhanced connections with customers that come from automation of data, documents and contracts.
Denver, CO (PRWEB) April 05, 2017
Conga, an application provider for companies looking to automate and enhance their business productivity, today announced major enhancements to its Composer, ActionGrid and Novatus products. Composer and ActionGrid are available on the Salesforce AppExchange, which empowers businesses to connect with their customers, partners and employees in entirely new ways. Novatus is a standalone SaaS product available for purchase on http://www.getconga.com.
The new features in the April release help businesses further benefit from the cost savings, increased efficiency and enhanced connections with customers that come from automation of data, documents and contracts. Underscoring Conga's commitment to helping its customers stay ahead of the competition, the new releases extend the functionality of its Composer, ActionGrid and Novatus solutions.
Built on the Salesforce Platform, the new releases of Novatus, ActionGrid and Composer are currently available for download at:
Conga Composer: https://appexchange.salesforce.com/listingDetail?listingId=a0N300000016b7FEAQ
Conga ActionGrid: https://appexchange.salesforce.com/listingDetail?listingId=a0N3000000B5ilaEAB
Conga Novatus: https://getconga.com/solutions/contracts/novatus/
"To remain competitive, businesses today must ensure the accuracy of their data in order to improve efficiency – this is why we are introducing new features that focus on providing actionable insights, faster data updates and more efficient automation," said Doug Rybacki, vice president of product management at Conga. "This latest release enhances our major products based on customer ideas and requests like Live Edit for Composer, ActionGrid Quick-Start Grids to address everyday challenges for Sales, Case Management, Executive Pipeline Management and Salesforce Administrators, and bulk data import into Conga Novatus for faster and easier contract management."
Some of the key updates incorporated in the April release include:
● Conga Composer – Business and Enterprise editions of Composer provide even more flexibility for companies leveraging the document generation technology by now including Live Edit capabilities, which allow users to personalize a document after merging data but prior to distribution. This allows for rich, dynamic documents to be created and fine-tuned entirely within the flow of a Salesforce process. Additionally, customers can now run Conductor batches with 1,000 records in a single batch – double the number of what was previously possible. The new Composer API and OData capabilities (introduced in limited release in February 2017) are now available for broader use in our Beta program.
-The Composer API enables Customers and partners to leverage Composer capabilities in more deeply integrated, automated ways.
-Composer OData enables Customers and partners to include data from other non-Salesforce systems through an open standards query – for example, including ERP data in a sales quote to provide expected shipping date for a product.
● ActionGrid – Customers may use the app's new Quick-Start Grids as pre-built solutions to get quick insight and actionable views into Salesforce data. The QuickStarts can be easily updated to suit modifications to your custom fields and custom objects in Salesforce. Child and parent data can now be not only viewed by edited on a single grid for fast action on account data. Enhanced summary reporting gives users even more visibility into their analytics. Now, users can reach an unlimited number of people with increased batch email size. Export functions have increased accessible items from 10K to 1M for larger export or mass update capabilities, giving customers the flexibility needed to work with large amounts of data.
● Conga Novatus 7.2 – New features make contract management even easier in Novatus, letting Beta customers access new bulk data import capabilities. By enabling them to import a spreadsheet with headers and metadata and removing the need to import piece by piece, the process can be faster and easier than before. In addition, single-use dynamic forms are now available to expand the power of reporting and data organization, and e-signature package correction lets customers update the signer or placement of the signature automatically. Finally, segmented document-level security adds another layer of security to specific document types within the same contract profile. Analytics tools and clause management capabilities, announced in beta last December, have been fully released to all customers.
"Since implementing Conga Composer, the Despatch sales team now takes only a minute or two to generate simple quotes," said Mark Clementz, Manager - TT Sales Channel, Thermal Processing Technology, Despatch Industries. "That's five times faster than using our old system."
This latest product release comes on the heels of the company's first ever user conference, Conga Connect, in Orlando last month, which gave more than 250 attendees the opportunity to learn how to leverage the Conga product suite to accelerate the sales cycle, accelerate business and improve efficiency across document generation, contracts and reporting processes.
More details on April's product release are available here.
About Salesforce AppExchange
Salesforce AppExchange is the world's leading enterprise apps marketplace that empowers companies to sell, service, market and engage in entirely new ways. With 3,500 partner apps and more than 4 million customer installs, it is the most comprehensive source of cloud, mobile, social, IoT, analytics and artificial intelligence technologies for businesses.
About Conga
Conga® developed its suite of enterprise-grade applications to help businesses using the Salesforce Sales Cloud optimize their CRM investments. The Conga Suite, which includes Conga Composer, simplifies and automates data, documents, contracts and reporting.
As a Salesforce Platinum ISV Partner, Conga is committed to providing its customers with enterprise-grade infrastructure, security and solutions. In fact, more than 8,000 businesses in 45+ countries across all industries rely on Conga applications to fully utilize their Salesforce data, including Hilton Worldwide, Schumacher Group and CBRE.
The company is privately-held and based in Colorado with global operations in the UK and Australia. Learn more at getconga.com or follow Conga on Twitter: @getconga.
Additional Resources
● Like Salesforce on Facebook: http://www.facebook.com/salesforce
● Follow Salesforce on Twitter: https://twitter.com/salesforce
Salesforce, AppExchange and others are among the trademarks of Salesforce.com, Inc.