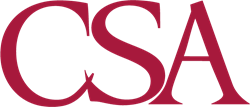 CSA needs a vibrant office environment to foster company culture
TYSONS, Virginia (PRWEB) April 05, 2017
On April 1, Client Solution Architects LLC (CSA) a mid-sized defense consulting company, relocated its Mid-Atlantic National Capital Region office to Tysons Corner, Virginia. Now located at 1775 Tysons Blvd., CSA is in the WeWork Tysons location. WeWork is a worldwide provider of innovative, flexible and collaborative workspaces for businesses of all sizes.
"WeWork offers CSA an opportunity to secure leased space in the greater Washington D.C. area that provides a vibrant office environment to foster company culture," said John Landry, CSA's Vice President of Infrastructure Management. "It also gives CSA space flexibility to upsize, rightsize and move locations as needed. Space-as-a-service provides a non-traditional means to infrastructure and allows CSA to leverage its operations in ten distinct locations within the National Capital Region."
CSA's Mid-Atlantic region is one of the company's fastest growing areas. CSA team members work directly on site with clients, as well as in the new CSA office space in Tysons. The new shared office space is conveniently located across from a Washington Metro station on the Silver line, providing additional transportation convenience to employees and clients. CSA selected the WeWork facility due to the collaborative office space setup that CSA team members need to work together.
CSA's new Mid-Atlantic region address:
Attn: CSA (WeWork location)
1775 Tysons Blvd., 5th Floor
Tysons, VA 22102
About CSA
CSA is a federal defense consulting firm, specializing in delivering solutions to improve operational performance and greater ROI to our clients. Our services help clients plan and execute processes for procurement and acquisition, life cycle asset management, supply chain management, program management, training and performance management. To learn more, visit http://www.csaassociates.com.