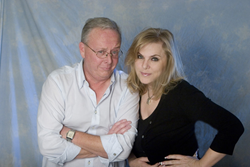 "We are so thrilled to welcome the brillant Judith Owen and legendary bassist Leland Sklar to our next show. It's exciting, fun and the music will be amazing!" - Gary Bergeson, Co host of LIVE with Gary and Kelly
Mission Viejo, CA (PRWEB) April 06, 2017
Saddleback College radio station KSBR 88.5FM is proud to announce that acclaimed pianist-singer-songwriter Judith Owen and the legendary bassist Leland Sklar will be special guests on the next "LIVE with Gary and Kelly" television taping on Saturday, April 15, 2017. The Saturday morning radio show will broadcast live with host Gary Bergeson and Kelly Bennett at Capo Valley Performing Arts Center on the campus of Capo Valley High School in Mission Viejo.
Judith Owen and Leland Sklar will be performing live as well as sharing their stories and musical beginnings with Gary and Kelly during the broadcast in front of a live studio audience. Selected amount of audience tickets will be available at http://www.KSBR.org; doors open at 9:30am with the show starting at 10:00 a.m. Owen and Sklar take the stage at 11:00 a.m. The program airs on Saddleback College's SCTV Channel 39 throughout the Cox Communication cable system in Orange County and on all Charter Cable franchises in the state of California on Channel 188. The television production is provided by AlertTheGlobe.com, which also live stream the television program around the world. AlertTheGlobe.com is a service focused on connecting musicians and music lovers around the world. Their advisory staff includes members from the Rolling Stones, Bruce Springsteen's E Street Band, Ringo Starr, Stevie Nicks and others.
Judith Owen is known for her musical variety and melding it into a great stylistic gumbo all her own. Her new CD release "Somebody's Child", is her 11th and the culmination of this mix. On the CD, she is again backed by the crème de la crème of LA session musicians, the renowned "Section" – bassist Leland Sklar, guitarist Waddy Wachtel and drummer Russ Kunkel. Voice and piano are front and centre and the songs are small vignettes of life. "It's classical. It's pop. There's jazz. There's rhythm and blues. Then there's rock thrown in there too," Judith explains. Recording with Kunkel, Sklar and Wachtel, studio stalwarts behind Carole King, Joni Mitchell, Jackson Browne, Laura Nyro among others, and touring with them, "Served as this incredible calling card for me. I waited a long time to be able to work with some of my musical idols. I'm a late bloomer," she admits. Linda Ronstadt was, "Blown away by her musicianship". Jamie Cullum called her, "Sassy and intelligent. Jackson Browne said, "Judith is a master class on how a show should be done".
The Breakfast with Gary & Kelly radio show has been broadcasting since 2006; the LIVE with Gary and Kelly TV show is on its seventh season as they have hosted Al Jarreau, Melissa Manchester, Dave Koz, Mindi Abair, Jonathan Butler, Ray Parker Jr., Debbie Reynolds, Linda Evans, David Benoit, Peter White, Diane Schuur, Keiko Matsui, Rick Braun, Paul Brown, Bill Cantos, Brian Culbertson, Nick Colionne, Spencer Day, and more. Bergeson and Bennett have conducted numerous remote broadcasts from locations all over Southern California, including the Festival of Arts in Laguna Beach, Catalina Island, the Malibu Guitar Festival, and at a Beverly Hills Estate Grammy Gifting Suite to name a few.
KSBR is a community service of Saddleback College. For more information on the Breakfast with Gary and Kelly Radio show, the LIVE with Gary and Kelly TV series or how to become part of the live studio audience April 15 show, please tune to 88.5 KSBR or visit their website at http://www.KSBR.org. Tickets are complimentary and must be reserved through the KSBR website.
Stay connected and follow Breakfast with Gary and Kelly on social media on Facebook http://www.facebook.com/BreakfastWithGaryAndKelly or find them at KSBR website http://www.ksbr.org/program/breakfast-w-gary-kelly
For Media Inquiries and Interviews please contact YM & Associates PR | Marketing | Branding at YMoralesY(at)YM-PR(dot)com or call 949-244-9769.
Yvette Morales
YM & Associates
PR | Marketing | Branding
California | New York
Phone: 949.244.9769
Email: YMoralesY(at)YM-PR(dot)com
About Saddleback College:
Located in Mission Viejo, Saddleback College provides quality higher education and training to the greater south Orange County community. Having served more than 500,000 students since 1968, Saddleback College offers over 300 degree and certificate programs to help students reach their personal, career, and educational goals. For more information, please visit http://www.saddleback.edu and for Fine Arts information, please visit http://www.saddleback.edu/arts